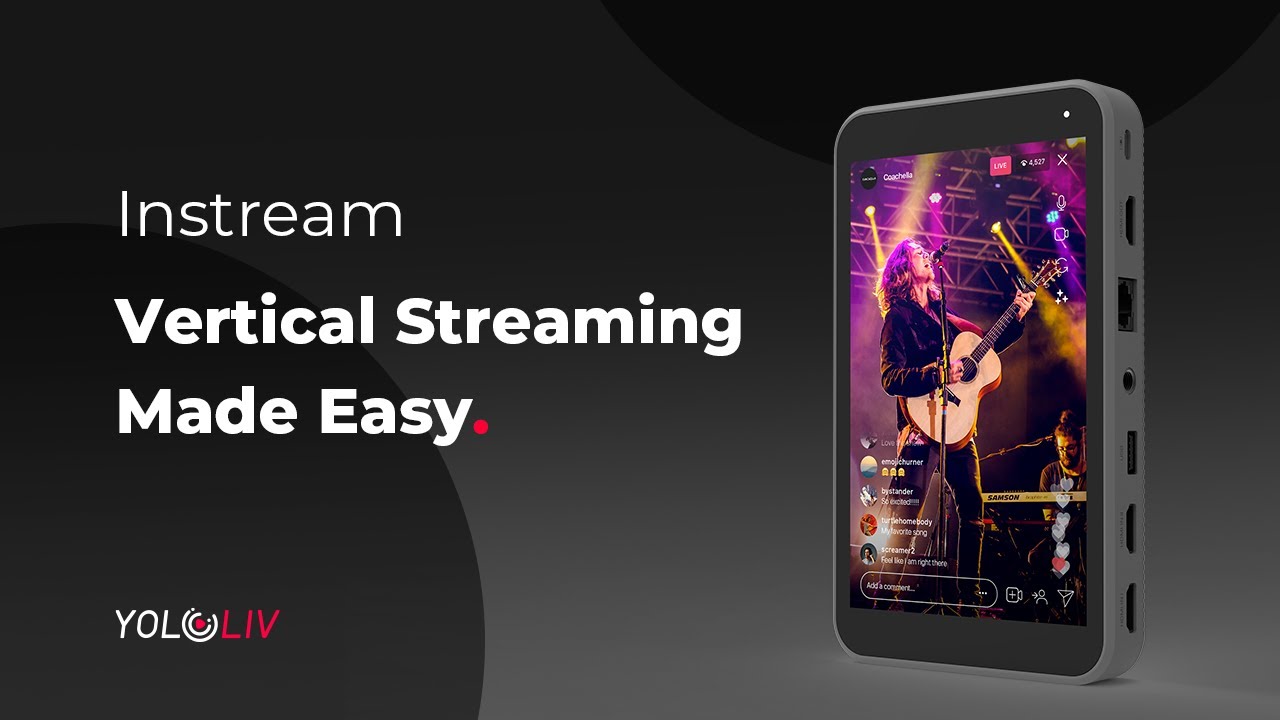 According to Grand View Research, live video streaming will be worth well over 300 billion (with a "b") by 2030. Trends like live streaming to Instagram, TikTok, YouTube, Facebook, etc., are taking social media by storm. However, the new Instream all-in-one live stream studio device by YoloLiv will anticipate that storm with an umbrella in hand. This never-before live stream tool is revolutionizing content creation, and if you're serious about your social media content, you'll want to read this.
A professional-looking social media live stream can require several devices: a camera switcher, recorder, encoder, monitor, and computer software. However, YoloLiv's Instream provides all these capabilities in one powerful live stream tool.
Want a green-screen effect, or how about a professional graphic overly? Instream video software does this effectively without a computer or OBS. Easily live stream record, make quick edits, and access the latest visual capabilities without extensive software knowledge.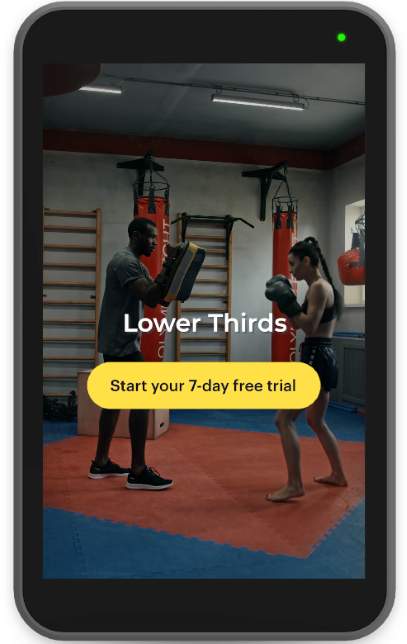 This easy-to-use touch screen device gives a new generation of content creators the best live stream setup and experience for social media to date. Small businesses can also use these tools to develop better engagement and social media branding on apps like Instagram, TikTok, Zoom, and Skype.
Who is the YoloLiv Instream for:
Creators

Streamers

Influencers 

Videographers 

Storytellers 

Small Businesses

Social Media Marketers
Let's uncover why the Instream is one, if not the best live stream tool for social media and video content, especially regarding professional branding and viewer reach.
The Instream Build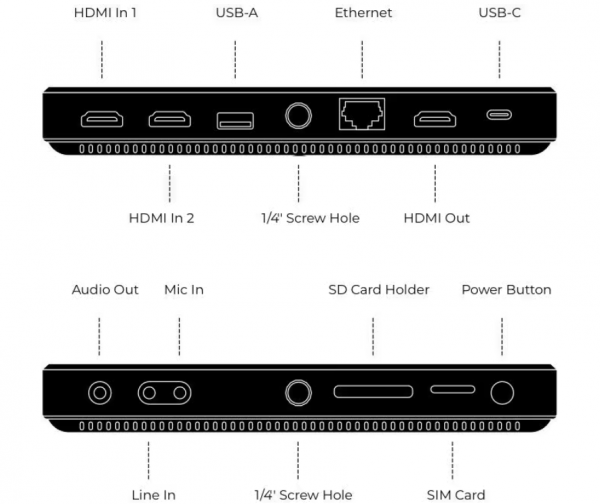 The YoloLiv Instream was built to be the end-all-be-all video switcher, encoder, monitor, and live stream recorder. What once required tons of cumbersome equipment and time is now quick, portable, and easy to set up. This is ideal for anyone who knows how exhausting an elaborate live stream setup can be, saving creators time and energy. 
The Instream is 7.4in x 4.4in and about an inch thick for a small but firm handheld device. It uses a Qualcomm Snapdragon 84.5-core Processo CPU, a step above its predecessor, the YoloBox Pro. Its battery capacity uses 10,000mAh and can last for up to 3 hours. As for internet connection, you can connect via 4G LTE, Wi-Fi, or use an ethernet cable for fast and secure streaming just about anywhere.
This device has a dozen ports primed and ready for almost every type of streaming usage. You can perform multi-captures, from an SD card slot for live stream recording to two HDMI ports, USB-C in, and even an audio out (3.5mm headphones).
All Instream Ports: 
DMI in: Video input

HDMI in: Video input

USB-C: Video input

1/4-inch Screw Hole: Mount Instream Mini with camera

Ethernet Port: Connect to Internet by Ethernet cable

HDMI out: Video out to monitor or computer for Zoom/Skype meetings

USB-C: For charging

Audio Out: Connect with 3.5mm monitor headphones

Line in: Stereo, connect to electric guitar or synthesizer

Mic in: Mono, connect to microphone for recording

SD card Slot: Used for live stream recording and loading graphics

SIM card Slot: Insert SIM card to connect to the Internet

Power Button: Turn on and turn off
Embracing Vertical Video Format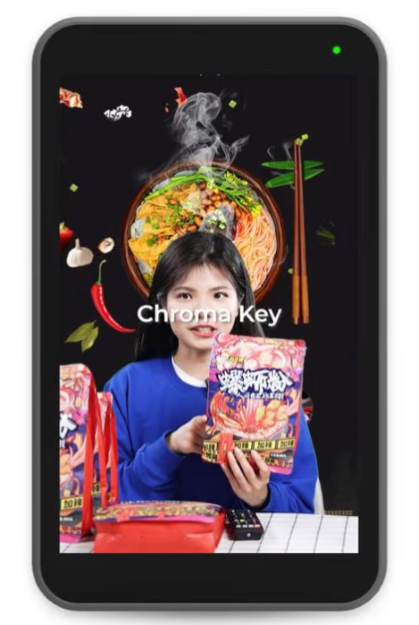 Interestingly, Instream drops the traditional 16:9 video format and supports 9:16 video to accommodate vertical social media videos. A sign of lead innovation, as vertical videos have become the norm for social media platforms like Instagram, TikTok, and Facebook.
Did you know 99% of people access social media through their phones, and to top it off, we use phones vertically over 90% of the time? In short, vertical video is the new horizontal for social content, and Instream is adapting to the new standard for a better user experience.
As an influencer, content creator, or even a business, it's essential to acknowledge trends within the industry. Instream is optimized to accommodate these needs through high-end, easy-to-use production tools, simplified editing, and smooth multi-connection.
Built-In Software for Live Stream 
Instream's live stream software features allow you to create captivating content for Instagram and TikTok viewers. Each software feature adds professional elements to your videos, increasing viewership and engagement. Let's cover them.
Content creators and businesses can use features like chroma key for green-screen video effects. Chroma key gives your stream a signature background and aesthetic that works as an excellent social media branding tool.
You know what else makes a live stream fun and engaging? Picture-in-picture (PiP) videos; this streaming tool allows viewers to watch several display screens on one monitor, like having multiple apps open simultaneously. PiP typically involves "hand-cams" for cooking streams or "face-cams" for video game streams (shown below).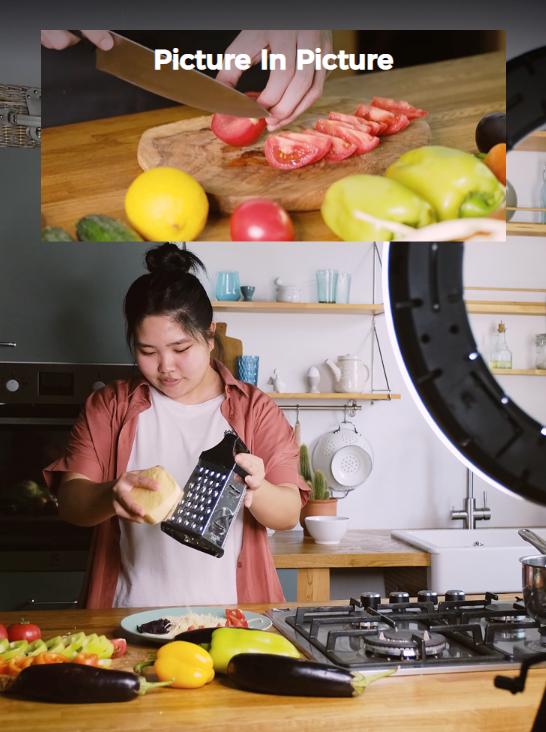 Among other live stream tools are the countdown timer and, a personal favorite, the graphic overlay options. The countdown feature can generate viewer suspense around your video content, like counting down until "show time." As for the graphic overlay, you can use this to create professional logos and labels, build brand recognition, catch viewers' attention, and more.
The Instream also produces lower-third graphics as another way to make high-quality content for your social media videos. Lower-third graphics are good for adding a "follow" or "subscribe" button, placing credits, or identifying creator handles. These live streaming resources at your fingertips increase social media branding, recognition, and growth.
Verdict
Now, it's important to note that the Instream is a bit pricey at $1,299. However, as an all-in-one, live stream tool, it's a no-brainer for businesses doing social media marketing and influencers taking their content to the next level.
Having a monitor for streaming, an encoder, a switcher, and special software for the live stream in a tiny device is unheard of. The YoloLiv Instream will shake up how we produce social media videos, and we're here for it.   
— What Instream capabilities are you most excited about?