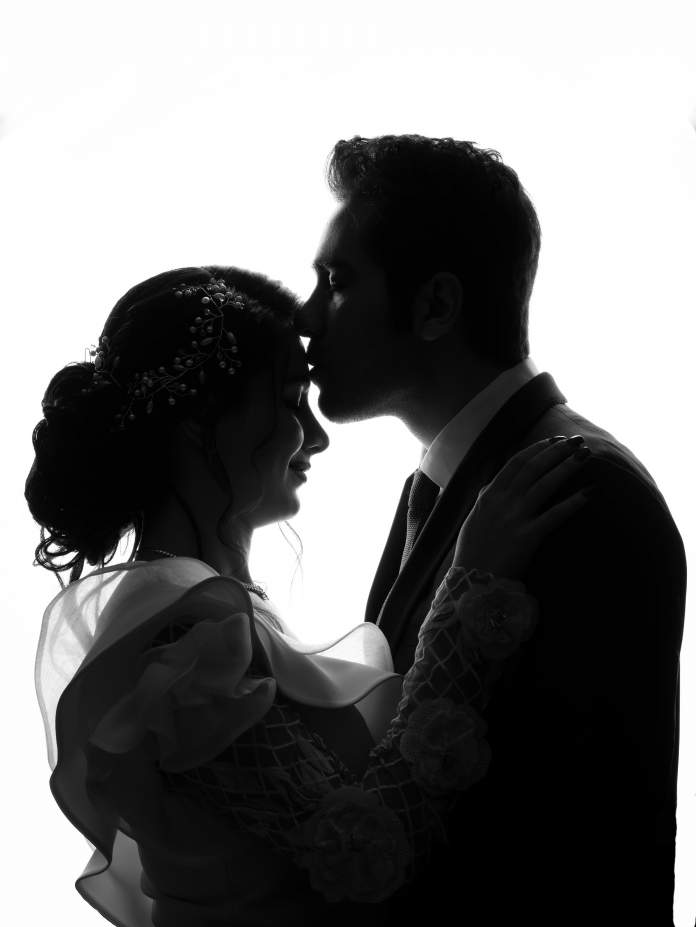 If you are just starting out in the world of wedding photography, you may be wondering how to become a wedding photographer full-time. The wedding industry can be very competitive, and putting effort into your wedding photography business will help you excel above and beyond your local competitors. To become a wedding photographer full-time, you must be able to run a steady and profitable business. Let's talk about what it takes to become a full-time wedding photographer.
Maintain a Wedding Photography Portfolio Website
Maintain a portfolio website to show off your photography. This is important to keep updated so your clients will always know what your work looks like. Perhaps you have learned some new editing techniques in the last few months — make sure that it is reflected on your website. Your clients will want to know exactly what they are getting when they book you as their wedding photographer. Common sites photographers use to build their portfolio include Squarespace, Showit, and Wix.
As a professional wedding photographer, you should have a consistent style that your clients can rely on, so they know what they are getting for their wedding day. That is why it is so important to keep your portfolio website updated. In addition, the more weddings you photograph, the more experience you'll gain –– which often results in better photos. Keeping your site up-to-date allows potential clients to see the best and newest work.
It's also a good idea to research local SEO. Make sure that your photography website is optimized to be found by potential clients on search engines. The basics of this include listing which areas your business serves, and what your style of wedding photography is. For example, if you're a fine art wedding photographer in New York, you should make sure to sprinkle those keywords around your website.
Keep an Up-To-Date Blog
Keep your blog on your website up to date with the most recent sessions that you've done. Whether it is a wedding, an engagement session, a bridal shower, or engagement party, you want to post about it on your blog. Making sure to reference any local vendors and venues that you are working with, keeping this content on the blog will help you share your professional wedding photography and be found easily on search engines.
For example, if a couple is Googling a specific venue, you'll want to have a blog post that is relevant to that venue on your website. That way, couples will be more likely to come across your photos. When they see the way that you've photographed the venue in the past, they may want to book you then and there because you've already had experience at their dream venue.
Focus on Your Marketing as a Full-Time Wedding Photographer
One of the biggest parts of running a business as a wedding photographer is marketing your services. You can have the most beautiful portfolio in the world that is all technically awesome, but being able to get clients is the most valuable part of a successful wedding photography business. As a wedding photography business owner, marketing is crucial to your business. When you market, you're not just waiting for clients to find you – instead, you'll be putting yourself directly in front of them.
There are several ways to market your wedding photography services, especially with social media, digital advertising, and having a web presence. When you put your energy into marketing your business, it will get you shooting more weddings and keep on building up your word-of-mouth referrals.
As a wedding photographer, you cannot solely rely on word-of-mouth. It's great to get referrals from past clients, and friends and family members, but you must have other ways to generate business when your referrals run out. Take a look at how other photographers in your area are marketing themselves. Are they prevalent on Yelp? Do they have a ton of Instagram followers? What can you do differently to make your business stand out to potential clients?
Use Social Media to Your Advantage
As a wedding photographer, you can luckily use social media to your advantage. Since photography is inherently visual, there are lots of visual-based social media platforms for you to promote your business on. Instagram is one of the biggest ones for wedding photographers, as it is where many engaged couples are announcing their new engagement, scouting out venues and vendors, and visually getting inspired for their wedding.
Pinterest is another great platform for wedding photographers, as plenty of users are on Pinterest solely to plan life events like parties and weddings. If you can provide them localized content that inspires them relevant to their big day, it will lead them directly to your website. Creating blog content for your business is especially important when considering how to post on Pinterest. You can post pins about venues you've photographed and locations you've had engagement shoots to draw in more local business.
TikTok is a rising platform for wedding photographers, as many are showing their behind-the-scenes process on this video platform. The great thing about a TikTok video is that you can cross-post it to Instagram and Facebook as well. Facebook is another big platform for wedding photographers, not only with fan pages but also within Facebook groups. Photographers promote themselves to local brides in wedding planning groups and generate clients through these networks.
Create Irresistible Offers
One thing that you can do to get more wedding photography clients so that you can become a full-time wedding photographer is to create irresistible offers. What is something that your business can provide that others may not be able to? Are you including a complimentary engagement session with your packages? Do you have a second shooter automatically added to your photography packages?
Think about ways that your business can stand out amongst the other local photographers in your area. Doing competitive research on other photographers will help you to understand the market better. In saturated markets like big cities, this is especially important so you can differentiate yourself from the competition.
Figure out what makes your business truly unique to start carving out your place in the market. If you can create a niche, you narrow your competition. For example, some photographers only photograph adventure elopements in the mountains and woods. These photographers make sure to only post those types of elopements on their website and social media, which allows them to corner that specific part of the market.
Connect With Other Vendors in Your Area
Connect with other vendors in your area and start to build a network of mutually preferred vendors. It's a great way to get to know others in your industry, and also to get referral clients. The most important vendors for a photographer to get to know our wedding planners, wedding venues, and officiants. These are the people who often get booked first in a wedding planning process.
If you can become the #1 referral for other vendors, you'll likely get tons of direct referral business. Venues will often specifically have preferred vendor lists, which are quite lucrative for photographers. Having referrals come in frequently from sources like these will help you to maintain your full-time wedding photography business.
Offer Headshots and Updated Photos for Vendors
One way that full-time wedding photographers get their foot in the door with fenders for networking purposes is to offer headshots and updated photos. This allows your work to be seen by their audience every time they go to their website or social platforms, and it also provides the vendors with something of value.
The more you can give to others, the more opportunities you will have to receive. It's important to give back to your local wedding community and build genuine connections with others. If you are going to go full-time, this is essential as you build a community and your reputation.
Calculate Your Prices for Long-Term Success
When it comes to the technical side of being a full-time wedding photographer, you must consider the financial aspect of making the move to full-time. Calculating your prices for long-term success requires planning and thoughtfulness. Don't just price your wedding packages at whatever the couple's budget is, or at some random number you've decided to come up with.
Think about how many weddings you want to photograph per year, what the taxes are that you'll need to be paying, what your business overhead is, and how much you want to be making on a personal level. If you are not a fan of finances, you can also work directly with a financial planner or a CPA. Together you can work out what it is you need to become a full-time wedding photographer.
Structure Your Wedding Photography Business Properly
You may also need to work with a CPA to structure your business properly. The structure of your business will depend on a variety of factors. It's often best to speak with a professional on what is right for your business. Many photographers choose to create an LLC or remain as a sole proprietorship, but there are other options to consider based on what the needs of your business are. It's important to work with a professional to understand what will benefit your professional wedding photography business the most.
Check on Which Insurances Your Photography Business Needs
It's important to have insurance for your business as a full-time professional wedding photographer. You must figure out which insurance is your business needs. Many photographers are required to have General Liability Insurance from the venues that they work with. Most venues will require a photographer to have this insurance before they are allowed to shoot the wedding day. It's important to make sure that your business is insured for any potential risks.
Look into other available options for photography insurance to keep your business running smoothly. Insurance protects yourself and your business in case of any issues. Having insurance for your equipment is essential for photographers, as wedding photography equipment can be costly.
Create Alternative Sources of Income as a Full-Time Photographer
One important lesson for any wedding photographer is to create alternative sources of income. Not only can you make additional income through albums and print sales, but also through photography in general. As we saw with the coronavirus pandemic of 2020, there may be issues that prevent wedding photographers from shooting actual weddings.
Making sure to gain experience in other types of photography will allow you to have a diverse income as a full-time photographer without relying simply on weddings. The elopement photography business is also great to gather experience in. You can build an elopement portfolio by doing styled shoots and elopements for friends or family members. You can also diversify into family photography, portrait photography, food photography, and so on.
Finding alternative paths to take as a full-time professional wedding photographer to supplement income in case you don't have enough bookings or unforeseen circumstances is important so you can keep your business afloat. You can also look into other options like selling fine art prints, photo editing work for other photographers, or selling presets and digital products.
Maintain a Steady Job Until You're Ready to Be a Full-Time Wedding Photographer
Until you are ready to be a full-time wedding photographer, make sure that you maintain a steady job to pay the bills. You mustn't take the leap into being a full-time professional photographer until you are financially secure enough to do so. It may mean having a certain number of weddings booked or having a certain amount of income saved up first.
Figure out what it would take to leave your job before you actually do it. You can still be a wedding photographer with a full-time job. That way, you can maintain security until you're ready to become a full-time wedding photographer.
Become a Full-Time Wedding Photographer
You can make the transition to become a wedding photographer as your full-time job by thinking about these different areas. It's important to remember that running a business is hard work and takes some juggling. You are often your own marketer, accountant, networker, and so much more on top of being a wedding photography professional.
When learning how to be a wedding photographer full-time, take it one step at a time. Becoming a full-time professional does not happen overnight. With hard work and patience, you can take your wedding photography business to the next level. For more photography business tips, check out the Focus Camera Wavelength Blog.