The release of Scarlett's 4th Generation series heralds a new era for audio interfaces. The Solo, 2i2, and 4i4 models have not just undergone an upgrade, but a complete reimagining that elevates their capabilities to unprecedented heights. Beyond the standard enhancements, the Scarlett 4th Gen interfaces boast a breathtaking redesign, offering a massive dynamic range and an array of advanced features that cater to both professionals and enthusiasts alike. Cutting-edge features and exceptional audio quality, poise the Scarlett 4th Gen interfaces to hold the standard in the realm of USB audio interfaces. Podcasters, musicians, and artists alike- this release is for you.
You can find each product on its own, in Studio form as well as alongside a kit. Experience Focusrite's 4th Generation Scarlett interfaces in full splendor with thoughtfully curated bundles. The Scarlett Solo Studio, The 2i2 Studio, and the 4i4 Studio emphasize all the basic essentials needed to create a studio setup. Focusrite includes in this purchase a studio-grade condenser mic and headphones. But, we elevate these specific bundles a bit further by including more accessories when you shop for a kit. Check out the variation of the Scarlett Solo just below for example: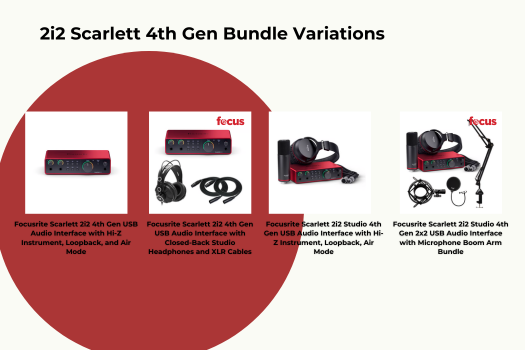 Moving on from the 3rd Gen
As a Scarlett Solo 3rd gen user for about 4 years, this was an exciting realm to experience firsthand. My Scarlett Solo (3rd gen) was my first introduction to hearing myself through a recorded interface. It was the first of my many firsts- including some of my many frustrations. But my 3rd gen, my ole reliable, has been that one piece of equipment that was true and consistent. It was easy to use and to set up. Fairly easy to understand and it came with lots of pro software as a helpful introduction.
With getting to know my Scarlett Solo Studio, I had everything I needed to record music on the spot, even some really thoughtful conversations for my podcast dreams that haven't yet taken off. This interface was a great introduction to figuring out a lot about music and not just that but also getting started in creating it.
As you can imagine, the 4th gen is now a part of my artist evolution. First hand, the new ergonomics make SO much sense. The subtle changes make it really easy to appreciate this new line of interfaces when you use it every day or often. This new build, the arrangement of inputs serves for a smoother setup and a cleaner- more simplified look. Specifically, the XLR input moving its way to the back. I also find it's really easy to appreciate the accessories that now accompany the Solo suites. Focusrite emphasizes a more comfortable fit from the included Studio headphones and it truly is just that. We also find in this bundle, a wind muff for precision when recording via microphone.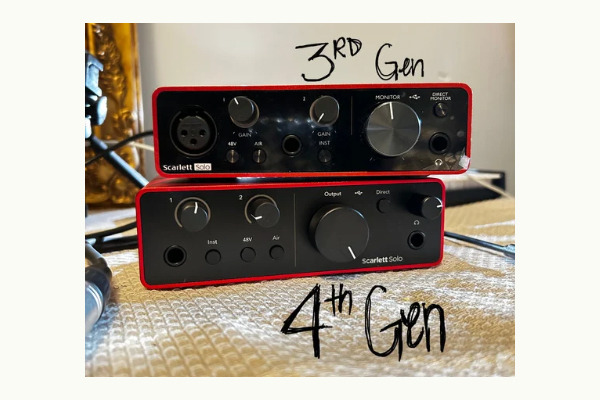 One of the unique accessories I found special in the Studio variation, equipped with Scarlett quality headphones and a condenser mic, was the cardboard mic cutout included in its bundle. It was an accessory I didn't know I needed at first introduction to the 3rd Gen. The Cardboard cutout was sturdy and thoughtful and was a good temporary fix for the boom arm stand that would come in the Focus kit bundle. Unfortunately, i didn't know about the wonders of a Focus kit back then.
These are just some physical changes that stood out the most to me, let's uncover some technical upgrades of Scarlett's 4th Generation.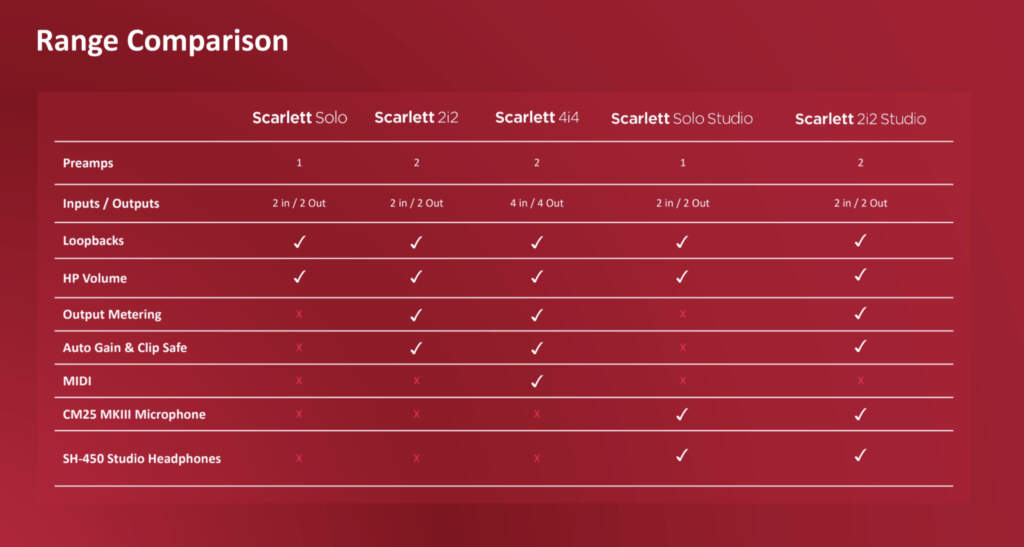 Perks from the 4th Generation Lineup
Scarlett's 4th Generation offers innovation and ensures pristine sound quality regardless of the microphone being used. This generous gain range means you can capture everything from the softest whisper to the boldest vocal performance, all with stunning clarity.
Focusrite's iconic Air mode feature of Scarlett interfaces has been re-engineered to offer a heightened sonic experience. With the new Presence and Harmonic Drive functions, Air mode lets you sculpt your sound with precision, adding an ethereal brightness that enhances vocals and instruments alike. This newfound creative control empowers you to infuse your recordings with a distinct sonic character.
With Auto Gain mode allowing for optimal input levels and the Clip Safe mode safeguarding against distortion even in high-energy recordings, your workflow is streamlined for superior results. Experience enhanced playback through the custom-designed headphone amp, matching recording precision for informed decision-making during refinement. The modernized Dynamic Gain Halos provides improved visual feedback and output metering, to ensure precise level control and informed adjustments throughout recording and playback sessions.
In the spirit of simplifying the journey from setup to creativity, the refreshed Easy Start tool emphasizes plug-and-play convenience. Get up and running in no time, so you can focus on what truly matters—capturing your artistic vision without technical hurdles.
Though the Solo, 2i2, 4i4 emphasize different layouts, the feel remains the same.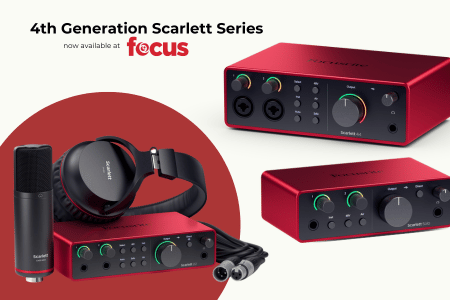 Unleash your creative potential with these comprehensive packages designed to streamline your workflow and elevate your sound. With a renewed aesthetic, enhanced dynamic range, and an array of advanced features, these interfaces empower creators with the tools needed to bring their artistic visions to life. Whether you're a professional seeking precision or an enthusiast exploring new horizons, the Scarlett 4th Gen interfaces invite you to explore the world of audio production like never before.
See the Full Lineup here.