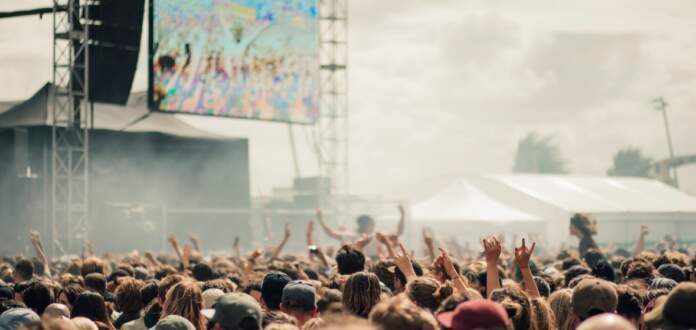 Coachella is about so many things. Yes, technically it's an annual music and arts festival that takes place in Indio, California. But it's also about making new friends, enjoying one of the most beautiful venues in the US, and (of course) curating perfect festival looks that demand documentation. However, you can't bring "professional" cameras with detachable lenses into the festival! A few people have managed to sneak in small mirrorless cameras, but most of those daredevils end up getting sent back to their cars or have their cameras taken away. In this post, we give you a few Coachella-approved camera options to take with you on your journey into the desert. Enjoy!
Polaroid OneStep2 i-Type Rechargeable Camera
You have quite a few instant camera options to choose from when packing for the desert. BUT, the Polaroid OneStep2 is a classic, no-frills instant camera that takes great photos. It features a high-quality 2 ft. to infinity lens, self-timer, and a powerful built-in flash for cute night shots. Plus, it has a 60-day battery life which is ideal for tent life. If its aesthetic is familiar, it's because this camera is based on the 1977 OneStep Polaroid camera; this model offers all of those sweet throwback nostalgia vibes with a more intuitive interface.
Fujifilm Instax Square SQ20 Hybrid Instant Camera
Fujifilm Instax Square SQ20 Hybrid Instant Camera
If you're searching for the perfect combination of digital and instant, look no further. The Instax SQ20 is equipped with a digital image sensor and a color LCD monitor to preview photos before printing. The SQ20 even has a few new features that will up your content game including collage mode, frame grab, and time shift. To see a full breakdown of the SQ20, check our video review here.
If you prefer the instant mini aesthetic, we recommend you look into the Instax mini LiPlay. It offers more or less the same features as the SQ20 but prints on the brand's smaller film (1.8 in × 2.4 in).
Panasonic Lumix DCZS80 Digital Camera
The ZS80—Panasonic's newest point and shoot—is fanny-pack-friendly and made for travelers and vloggers. Use it to take 4k videos of your fave artists and perfect selfies with its tilting screen. If things get a little…uh…blurry while you're shooting, the ZS80 has Post Focus mode and Stacking mode which both give you a lot of control over your images after they're taken.
We love the Sony DSC-RXIR II. It has an impressive 42.4 MP sensor, records full HD movies, and shoots 5 frames-per-second with exceptional autofocus tracking. It is an ideal, reliable companion for all of your Coachella photography needs.
Admittedly, this camera is on the expensive side and you're going to want further proof that it's a great camera for real life as well as festival life. With that in mind, we recommend you check out this Flickr album of jaw-dropping sample photos.
Fujifilm Instax Share SP-3 Printer
The Fujifilm Instax Share SP-3 Printer is a great option if you don't want to invest in a whole new camera or you're (rightfully) nervous about taking a sensitive electronic device to a festival. 
The Share SP-3 is essentially a hyper-portable Bluetooth printer. Just download the Instax app, connect the printer with your smartphone, and print digital photos on instant film. Keep this little guy in your bag and print at the festival or keep your film out of the heat and print your favorite shots when you get home.
What must-haves are you taking with you to Coachella this year? Let us know in the comments below.
Regular price: $447.99

Regular price: $3,298.00

Regular price: $119.99