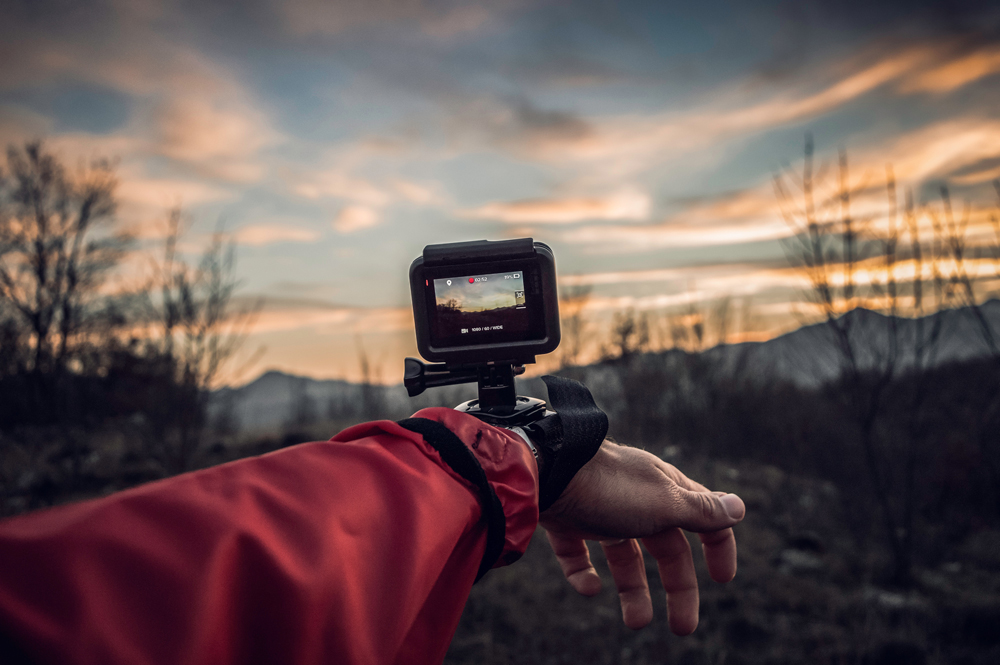 GoPro was once the gold standard for action cameras, but don't just go for GoPro because you don't know what else to get! Sure, it's in the running, but so are Olympus, Sony, and even newcomers like Contour. Not every camera is built to wander in the same way, so be sure to consider what exactly you want your action camera to capture.
GoPro Hero 5 Black
The most powerful GoPro to date, the Hero 5 Black is well reviewed among novices and action camera enthusiasts.  In addition to image stabilization, voice control, waterproof construction up to 10m, and 4K video capture, it features a 2 inch touch display to preview, playback and trim your footage. There is just one record/stop button up to, and tons of ways to mount it with thirty plus accessories. You can also use advanced features like GPS, Exposure Control, and RAW photos for more flexibility to edit.
GoPro Hero 5 Session
This little guy strips action down to the essentials. With no screen and a compact design, the Hero 5 Session is for people who can't waste an inch of space. Like, campers or college graduates who backpack through Europe. It includes many of the same features as the Hero 5 Black, like image stabilization, voice control, waterproof construction, and 4K video capture.
Olympus Tough TG-5
The TG Tracker's claim to fame is the ability to record all sorts of random information in addition to your video. From temperature and depth to GPS, compass, and acceleration, this action camera is ideal for people who want the whole picture. Show your friends just how much you left on the table with data displays on playback footage – that's right, you left nothing on the table. It also features 4k at 30fps, 1080p at 60fps and an impressive 240fps at 720p for slow motion capture.
Sony FDR X3000
Sony has been making camcorders for years, so it's no surprise that they put together a pretty great action camera. With 4K, Wi-Fi to connect to a smartphone app, remote control options, and a tough body, the FDR X3000 also features image stabilization with Optical SteadyShot and built-in GPS to display your route. It really gives the GoPro a run for its money.
Contour 1600 Roam
A few hundred dollars less expensive than its competitors, the Contour 1600 is easy to use and tough. It doesn't shoot in 4K, but lets you grab 1080p for up to eight hours. There's no image stabilization, but it's adaptable for tripods and screw-hole mounts. For anyone who complains that action cameras are complicated or require too much prep, the Contour is your best option.
Action cameras are great tools for athletes, adventurers and everyday thrill seekers. GoPro Hero 5 Black is a good option for all around use in diverse settings, while the Sessions provides similar quality in a smaller package. For more tracking data and a tough exterior, go with the Olympus TG-5. Top quality video requires the Sony FDR X3000, while the Contour Roam is an inexpensive, straight forward option for beginners.