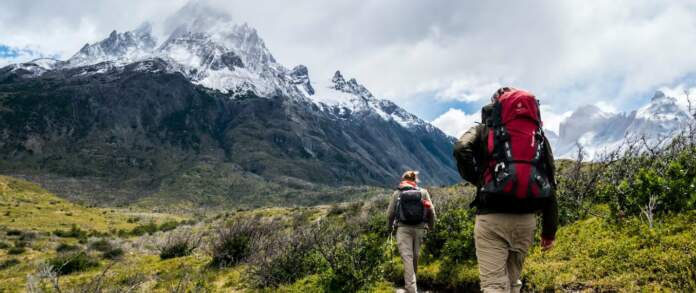 Enjoy, fantastic gifts for the outdoors: optics, backpacks, trail cameras, portable speakers, and more.  
Ah, the great outdoors! Mother nature's best gift for outdoor enthusiasts and nature lovers. But what about their gift from you? This holiday season we've created a friendly gift-giving guide for those outdoorsy family and friends you appreciate. If you know a hiker needing a backpack, a birdwatcher needing binoculars, or a nature photographer needing a camera bag for travel, we have the gear they'll love. This guide contains excellent kits for:
Nature-Lovers
Birdwatching
Hiking
Backpacking
Camping
Nature/Landscape/Macro/Astro/Wildlife Photography
Stargazing
Outdoor Sports/Activities:

Fishing
Hunting
Mountain Climbing
Swimming
Skiing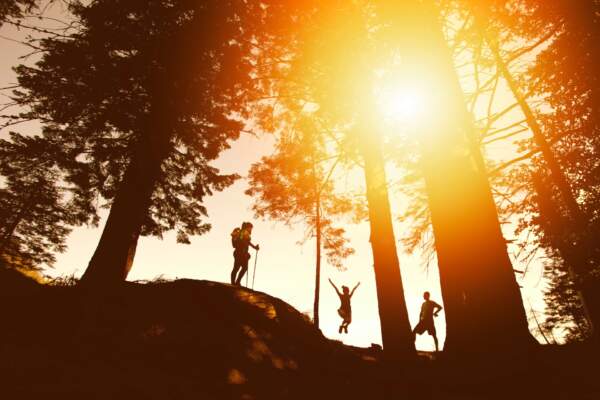 Plus, if you're looking for more affordable gear, we also included items under $100 that you'll want to check out. It's time to find that perfect gift for the outdoors and put a big smile on someone's face this holiday season.
Garmin Fenix 7X Sapphire Solar GPS Smartwatch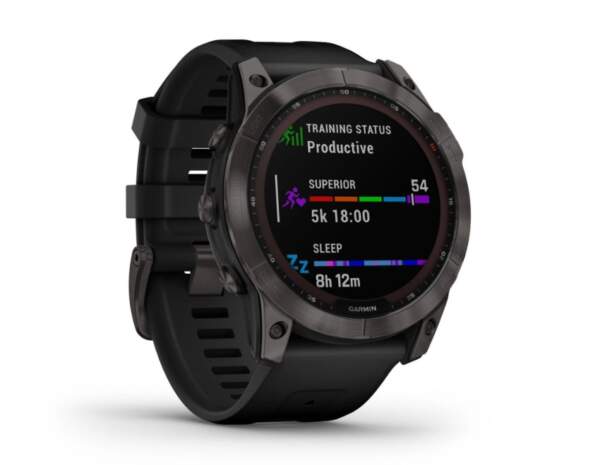 The impressive GPS smartwatch ready for any voyage.
As the name suggests, the Garmin Fenix 7X Sapphire is solar-powered and highly durable with water, shock, and thermal resistance. Its built-in sports app helps users stay ready for all outdoor activities, such as hiking, rowing, golfing, skiing, surfing, and climbing. This watch is ideal for tracking heart rate, oxygen intake, and movement metrics such as how much stamina you're exerting, your pace, the weather, elevation levels, and more.
It's even an excellent device for anyone into fitness or looking to track their fitness goals, helping to give workout suggestions like recovery advice and HIIT interval tracking.
You can check out more Garmin gear on sale.
What is this outdoor gift good for: 
Hiking
Backpacking
Camping
Outdoor sports

Swimming
Skiing
Mountain climbing

Fitness Activities/Health Monitoring
The Garmin Fenix 7X Sapphire is great for anyone passionate about traveling in the wilderness, especially for long periods. It's solar charging features, built-in flashlight, and GPS make it great for avid backpackers and hikers. However, its sports apps, workout suggestions, and heart-monitoring capabilities support athletes and fitness enthusiasts as well.
Zeiss 10×42 Victory SF Binoculars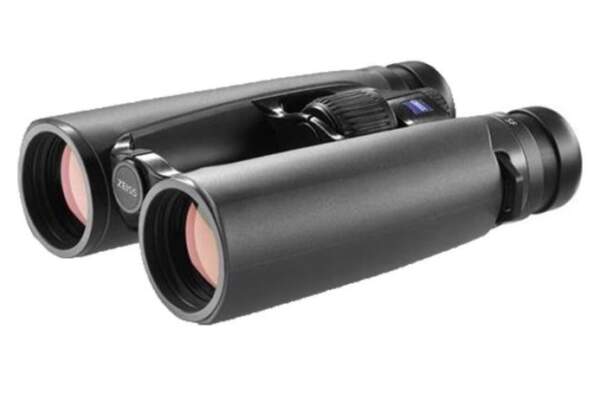 The Zeiss 10×42 Victory SF binoculars are one of the sharpest optics on the market. Users can experience the authenticity of extra-low dispersion, outstanding contrast, and no distortion. Its wide field of view makes nature and bird watching a comfortable experience without having to pan and turn excessively.
You can check out more binoculars and accessories on sale.
What is this outdoor gift good for: 
Birdwatching
Hiking
Wildlife/nature photography
Landscape photography
Astrophotography
These Zeiss optics are an excellent gift for experienced birdwatchers and nature gazers. Its impeccable quality, combined with quick and accurate autofocus, makes it ideal for quickly spotting fast-moving birds and other small creatures.
Lifestyle by Focus 34 Quart Electric Cooler/Warmer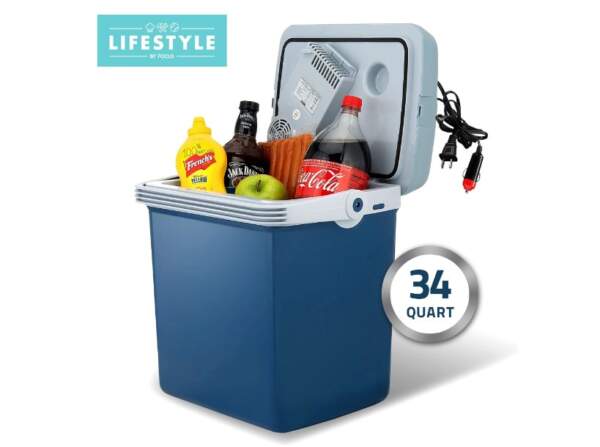 Regarding eating outdoors, the 34 Quarter Electric Cooler/Warmer is the perfect picnic companion. It has outstanding quality and performance. You will be satisfied whether you need to keep your food heated during a wild winter storm or nice and cool in the sizzling summer. Its versatile interior allows heating up to 130° F and cooling to 40 ° F. You can also power it using a 67-inch 12V DC car adapter and a 58-inch AC power cord.
What is this outdoor gift good for: 
Skiing trips
Camping
Fishing
Picnics
Road Trips
The beach
BBQs
This all-in-one cooler/heater makes storing food during mini-vacations or road trips seamless. Many people use it for everyday activities like holding groceries for long trips to the store. This is highly recommended if you enjoy picnics, BBQs, and days at the beach.
F-Stop Urban Series Fitzroy 11-Liter Camera Bag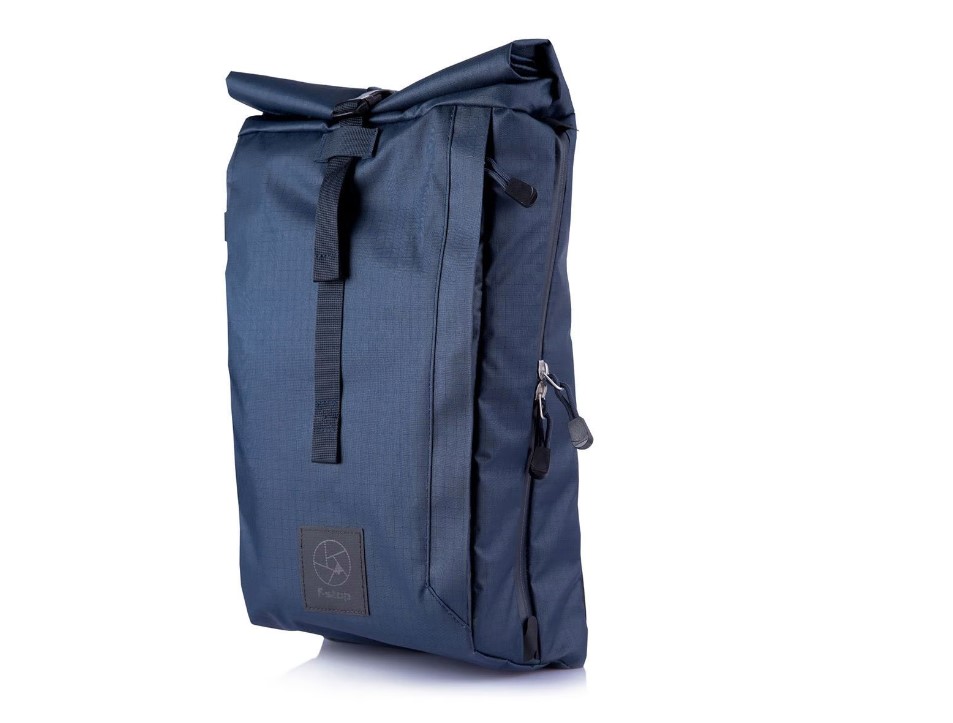 This Urban Series camera bag is essential for keeping gear safe from the elements and organized. Its ergonomic design makes carrying it on long trips effortless, and its removable dividers make managing equipment easy—a great feel and size. Do you know anyone searching for a new camera bag?
What is this outdoor gift good for: 
Wildlife/nature photography
Landscape photography
Astrophotography
Flower photography
Macro photography
Time-lapse photography
Travel photography
Photographers performing long hikes with gear to get the perfect nature shot will enjoy the Urban Series Fitzroy bag. This can be especially useful to photographers with large amounts of equipment.
Check out other great F-stop bags.
Stealth Cam G42NG 32MP No Glow Trail and Wildlife Camera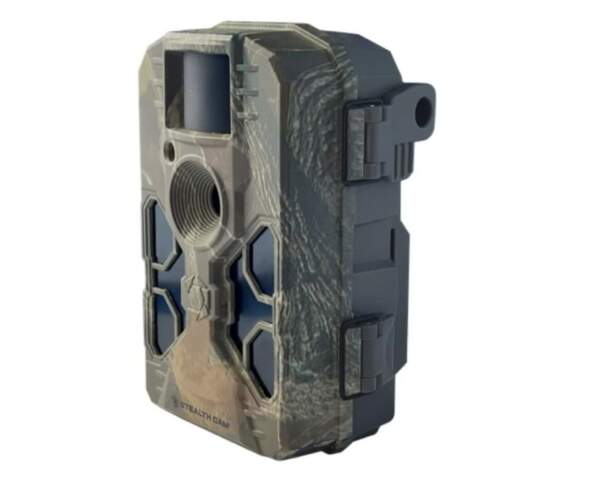 The Stealth Cam is a standard and reliable trail camera that is great for capturing animals in inaccessible locations or when you're not around. Its Reflex trigger has outstanding speeds, capable of snapping photos in less than half a second for quick-moving animals. Furthermore, it has the capacity and power to record 5-180 seconds of HD video with audio.
You can check out other fantastic trail cameras on sale.
What is this outdoor gift good for: 
Hunting/scouting
Wildlife watching/researching
Trail cameras are an excellent outdoor gift for hunters and wildlife photographers looking to get rare photos and footage of animals when they're not there. It is a constant set of eyes, creating authentic breathtaking shots of nature in action.
Ricoh Pentax 8 x 43 Z-Series ZD WP Binoculars (With Harness and Lens Cleaning Pen)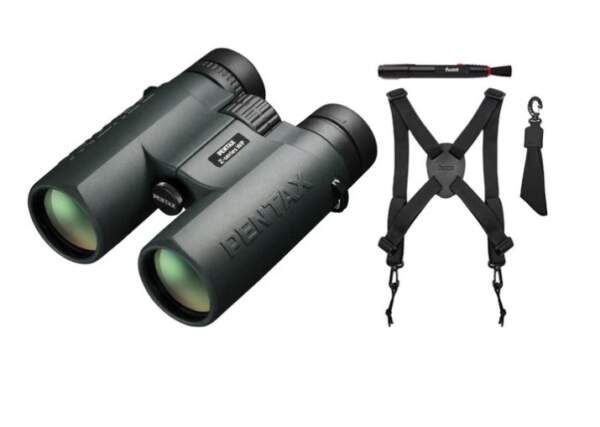 The Ricoh Pentax 8×43 Z-Series AD WP binocular kit is a nature enthusiast's dream bundle. The binoculars come with a cleaning pen and harness to help users prepare for hours of fun sightseeing. The optics are made of an anti-reflection, fully multicoated build, which increases the contrast of colors and maximizes ideal brightness and quality. The harness is designed to make elongated nature watching a pleasurable experience with little discomfort, especially for birdwatchers experiencing back or neck pain.
You can check out other Ricoh/Pentax optics and lenses on sale.
What is this outdoor gift good for: 
Nature/wildlife/bird watching
Wildlife/nature photography
Landscape photography
Astrophotography
This is a no-brainer present for nature enthusiasts, birdwatchers, and wildlife photographers looking to spot potential shooting opportunities.
Garmin inReach Explorer+ Handheld Satellite Communicator with TOPO Maps & GPS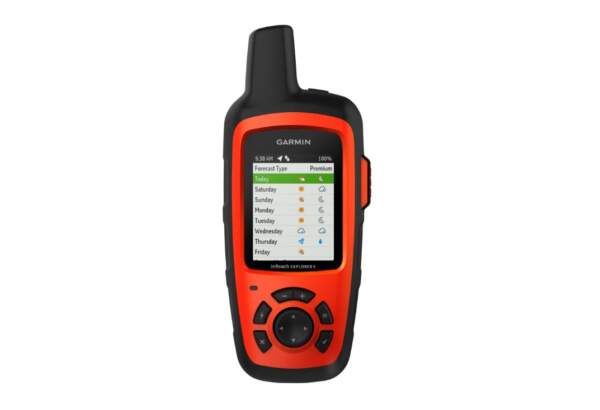 If you know anyone obsessed with off-trail hiking or backpacking and you care about their safety— the Garmin inReach Explorer is well worth it. This satellite communicator is built for any adventure on or off the grid. They'll be able to communicate virtually anywhere, share their location, use GPS and TOPO maps, track voyages, send SOS signals to monitoring centers, and so much more. Moreover, it helps users send text messages and post to social media whenever they choose to connect back to the world.
What is this outdoor gift good for: 
Camping
(Off-trail) Backpacking/hiking
Fishing
Boating
Traveling
Rock climbing/Mountaineering
This device is the ultimate adventure companion. This is a high-quality device and a great backpacker or hiker gift, especially for those who love going off-trail. No matter where they are, it'll add an extra layer of comfort and safety without compromising the joys of going off grid.
Celestron StarSense Explorer LT 80AZ Telescope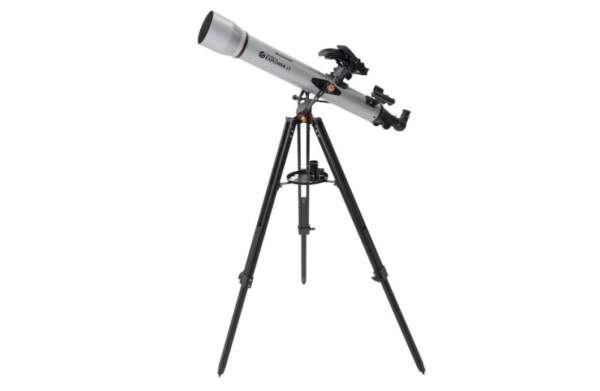 Behold the night sky and all of its wonders using the Celestron StarSense Explorer Telescope. This telescope is one of a kind and accessible for all stargazers, from beginners to advanced. It uses a StarSense sky recognition app (on your phone) to analyze star patterns and map their real-time positions. Furthermore, this telescope doubles as an excellent gift for birdwatchers and wildlife observers due to its 90-degree erect image diagonal for quality day gazing.
What is this outdoor gift good for: 
Stargazing
Camping
Backpacking
Wildlife/Birdwatching
Using this telescope is like having a guide to the night sky, pointing out the beauty of the cosmos before your very eyes. It's easy to use and recommended for all levels of stargazers, birdwatchers, and wildlife observers. It comes with an 80mm refactor, 25mm and 10mm eyepieces, 2x Barlow lens, StarSense smartphone dock, red dot finder scope, and more.
Sony SRS-XE200 X-Series Wireless Ultra Portable Bluetooth Speaker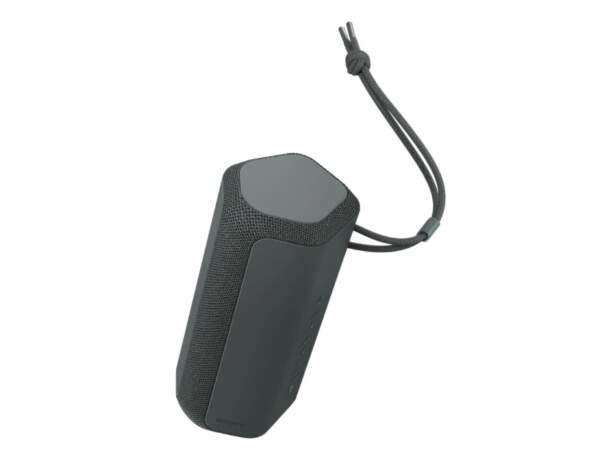 The Sony SRS-XE200 speakers are made to be played anywhere and handle most environments. They have IP66 water and dust resistance rating for high durability. In addition, the battery life lasts up to 30 hours, so users stay entertained on long hikes or camping trips.
What is this outdoor gift good for: 
Camping
Fishing
Hiking
Backpacking
Outdoor sports
Beach/lake trips
Road trips
Picnics
BBQs
This present is for anyone who appreciates the sound of the outdoors and a little music to set the mood; they'll appreciate this portable speaker. This an excellent outdoor gift idea for campers, anglers, hikers, and anyone who plays music during their downtime.
Gifts for the Outdoors (Under $100)
Pentax Jupiter (8×40) Binoculars with Harness and Lens Cleaning Pen Bundle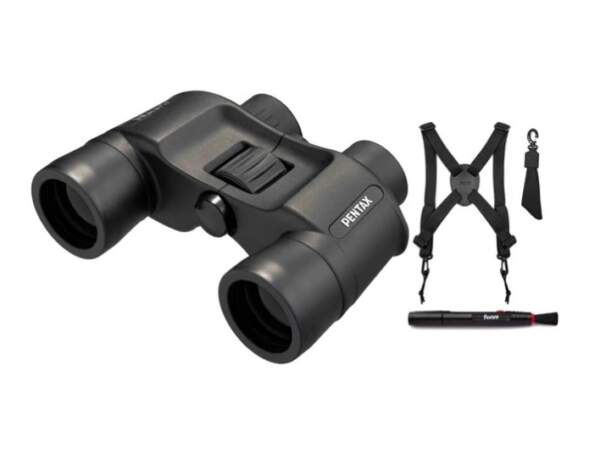 You can get the Pentax Jupitar binoculars for $30 off right now until 11/29.
You may know someone who would consider themselves a novice nature watcher. Instead of overspending on pricier binoculars, get the Pentax Jupitar 8×40 binocular bundle. It still comes with a cleaning pen and harness but is a more affordable beginner birdwatcher gift.
Vortex Solo 8×25 Waterproof Monocular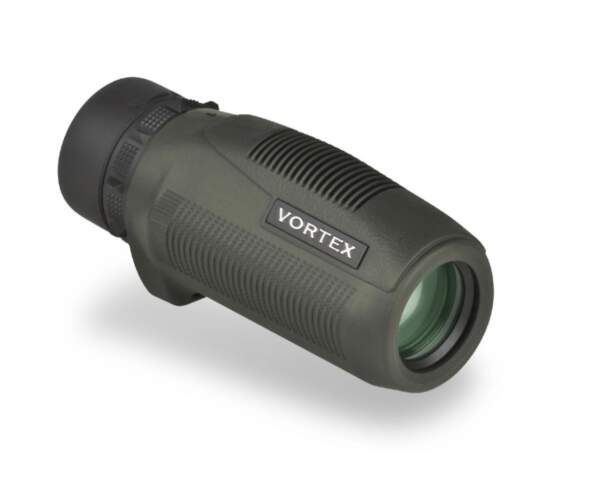 The Vortex Solo 8×25 monocular is an excellent optic, no matter the conditions. It is compact, feels great to hold, and has impeccable visual capabilities with a magnification of up to 8x the distance.
Zeiss Lens Cleaning Kit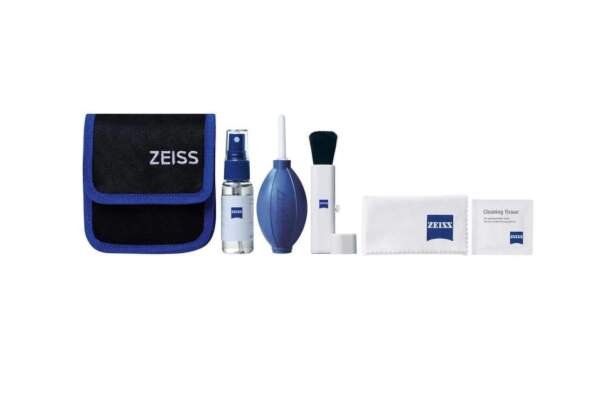 Because even outdoor gear still needs a good cleaning every once in and while.
The Zeiss Spray Lens care kit is affordable, simple, and still a meaningful gift for birdwatchers, hunters, and anyone using scopes or optics. It cleans all lenses thoroughly, including binoculars, camera lenses, LCDs (laptops/cellphones), scopes, and even eyeglasses, as a bonus.
Dynatrap Ultralight Insect and Mosquito Trap
Nature can be pleasant, but not as much when it's buzzing in your face. The Dynatrap Insect Trap is perfect for any outdoor location with abundant mosquitos and pests. And anyone who enjoys outdoor BBQs, picnics, and backyard/balcony lounging knows just how persistent insects can be. The Insect Eliminator is portable, quiet, and has an effective radius of 300 sq ft for outdoor delight without a bug in sight.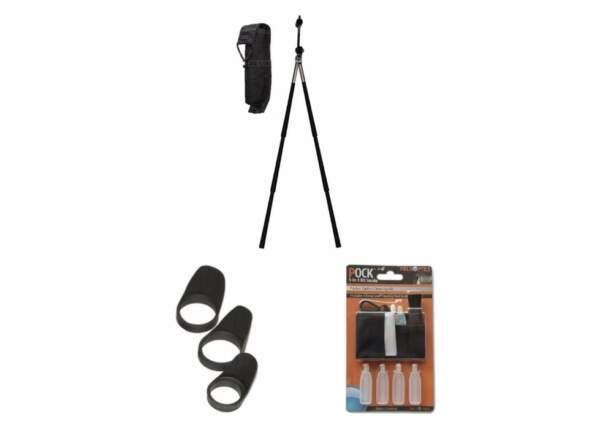 This Field Optics Birder's bundle is yet another great set of equipment to give to someone who enjoys being outdoors. The kit has three different-sized flexible eye shields to help block ambient light, a clearing kit, and a stand for image stability and arm fatigue. If you know a birdwatcher, who spends long hours observing, this is the perfect kit for them.
Bushnell A200L Rubicon Lighting 200 Lumens Compact LED Lantern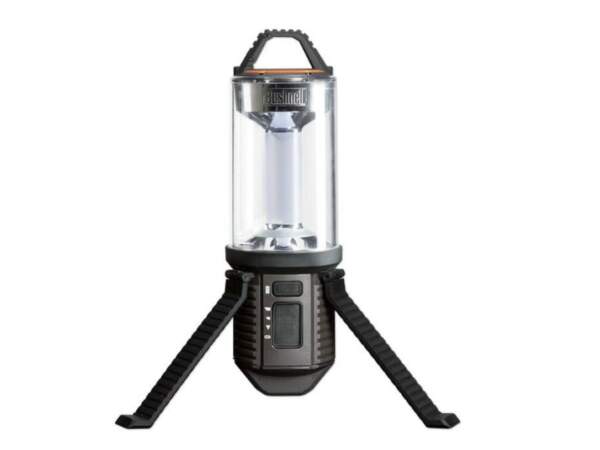 The Bushnell Rubicon Lantern is a perfect light source for any overnight camping trip. It is reliable enough for long camping trips with a 50-hour runtime. It's easy to carry and hang, water-resistant, and has a red halo low-lumen mode for enhanced light with natural night vision compatibility.
Shakespeare Catch More Fish Tackle Box Kit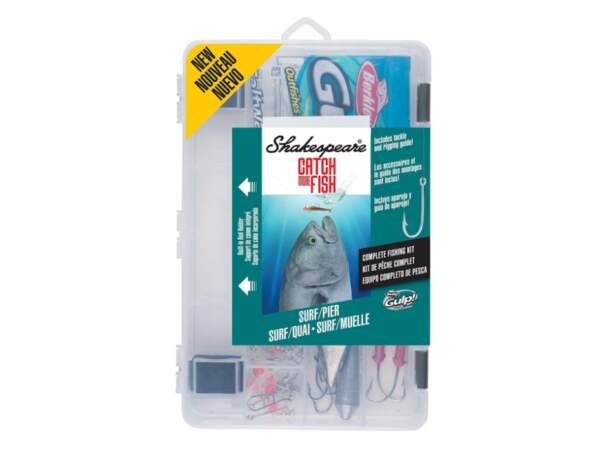 The Catch More Fish kit is one of our popular kits, suitable for beginners and young children who desire to become great fishers. It contains a durable tackle tray for storage, shrimp and crab bait, and a rigging guide for flawless fishing.