One of the best elements of photo and video is that anyone can start at any point in their lives. It doesn't take much, just a bit of creativity and the right camera to capture the moment. Of course, if you plan on starting a photo business, it'll take more than that. But if you love photography and want to tell stimulating visual stories, the next step is to get a camera, preferably not too expensive.
Unfortunately, most newer high-quality cameras have jaw-dropping prices enough to discourage beginner photographers. However, there are a few cheap starter cameras with exceptional performance that even plenty of veteran photographers love and trust.
This post is a guide to help you upgrade from point-and-shoot or smartphone cameras to picking the right low-priced mirrorless or DSLR starter cam. Let's review five great cameras that give you that quality feel without breaking the bank.
Canon EOS M50 Mark II Mirrorless Camera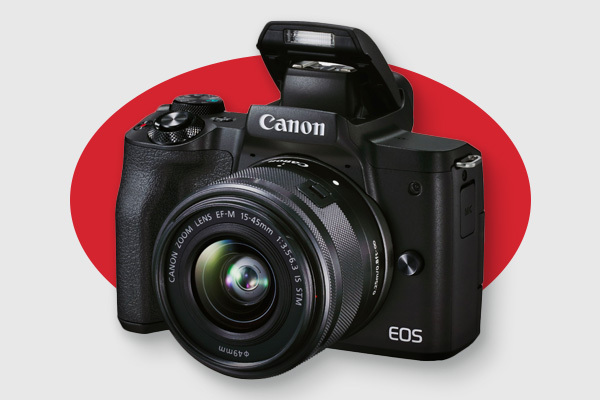 Anyone looking for a cheap camera for vlogging or content creation will be especially pleased with the Canon EOS M50 Mark II. Like the EOS M50, this camera runs strong in the power and performance category. Equipped with a 24.1MP APS-C sensor and a DIGIC 8 image processor for great AF, you get the ultimate bang-for-your-buck. As a surprisingly cheap camera for filming, it still has 4K UHD 24p and HD 120p slow motion, which is fun to explore for multiple creative purposes.
This camera was designed to capture images easily and more precisely, even at longer ranges using Eye Detection AF. The EOS M50 was meant for you to have fun vlogging and filmmaking with 120fps and close capture details. The highlights of this camera lean towards video, using Vertical Video features, Movie-self timer, and [Touch Rec] icon to enhance your video experience. This EOS M50 comes with an EF-M 15-45mm IS STM lens for only $100 more, adding to an already fantastic kit.
Specs & Notable Features:
Price: $500.00
Image sensor: 24.1 CMOS sensor
Lens Mount: Canon EF-M Mount
Camera Format: APS-C
Video Resolution: 4K UHD 24p
Highlights
HD 120p Slow Motion
Movie self-timer with touch record control
DIGIC 8 image processor with Auto Lighting optimizer
Nikon D3500 DSLR Camera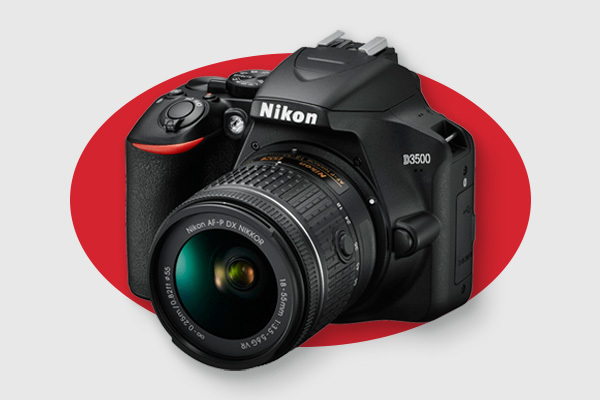 The Nikon D3500 is a staple camera popular with many beginners and veteran photographers. If we're talking "pick up and shoot," this is undoubtedly it. When you first look at the build, you'll notice this camera is very light and fits comfortably into your palms for long enjoyable shooting sessions wherever you go. It has a 3″ display and 170-degree viewing angle, and you can even use the SnapBridge app to connect to your smartphone for remote viewing, posting, and editing.
Sporting a 24.2MP APS-C image sensor, you'll receive high-resolution images without the expensive price tag. The amount of light and color you get with every image is remarkable and will really bring your photos to life. It comes with a NIKKOR 18-55mm f/3.5-5.6 VR lens, giving you unique ranges for video and wide-angle shots. This lens is excellent for helping beginner photographers maintain a clear and stabilized image throughout their photos.
Specs & Notable Features:
Price: $696.95.00
Image sensor: 24.2 MP DX CMOS
Lens Mount: Nikon F Mount
Camera Format: APS-C
Video Resolution: Full HD 1080p
Highlights
Guide Mode: makes learning to shoot easier
Built-in Bluetooth connectivity to the SnapBridge app
Sony A6000 Mirrorless Camera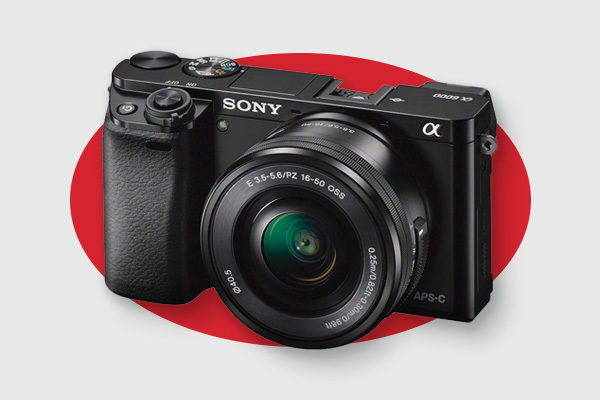 The Sony A6000 is a top-end mirrorless camera fit for amateurs and even professional photographers, for a good reason. Its 24.3MP APS-C HD CMOS sensor and BIONZ X image processor produce top-tier crystal clear imaging.  The smooth transition of color and high-res photos form riveting images that are especially nice for capturing and emphasizing subtle portrait details.  The Sony A6000 is not just fast but accurate and adaptable. It has a Fast Hybrid Focus for quick shots in quick-paced environments and a 4D Focus for comprehensive and predictive coverage.
The 25600 ISO capabilities allow it to capture great photos even in low light and dim indoor sceneries, for tons of photography opportunities anywhere. On top of this, it has a .39″ 1.4M-dot OLED Viewfinder that also tilts to help you set up shots the way you intend. This camera comes with a 16-50mm f/3.5-5.6 OSS lens which has Optical Steady Shot great for steady portrait and landscape photography.
Specs & Notable Features:
Price: $648.00
Image sensor: 7 MP Exmor CMOS sensor
Lens Mount: Sony E Mount
Camera Format: APS-C (1.5x Crop Factor)
Video Resolution: Full HD 1080p
Highlights
Tilting 3 in Xtra Fine LCD
BIONZ X image processor
High ISO range 100-25600 for low-light photos
Canon EOS Rebel T7 DSLR Camera (EF-S 18-55mm IS II Lens Kit)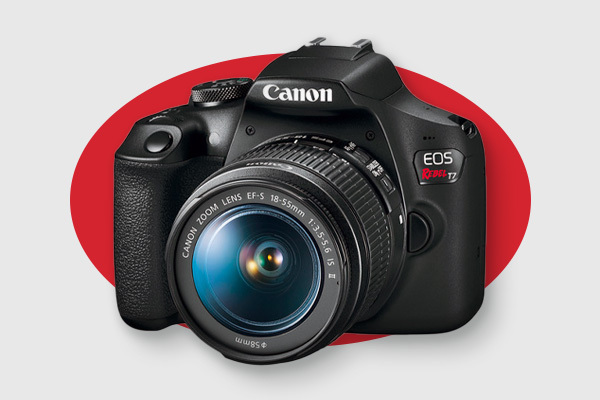 Yet another affordable and reliable DSLR camera from Canon the EOS Rebel T7.  Its user-friendly properties make this another excellent camera for novice photographers to get their hands on. Another camera with a 24.1MP CMOS sensor with great lowlight features and high-quality images creates memorable moments. The camera allows social media fanatics to share beautiful pictures from anywhere using its built-in Wi-Fi and NFC technology. It comes with an 18-55mm IS II lens, which is versatile and suitable for good stabilization and depth of field.
In addition, to being a great starter camera for photography and video, the EOS Rebel T7 bundle comes with a "Canon Insider Guide" to help you boost your photo skills in no time. You can quickly build up your photography gear in one shot by taking advantage of abundant kit.
Specs & Notable Features:
Price: $479.00
Image sensor: 1 MP CMOS sensor
Lens Mount: Canon EF Mount
Camera Format: APS-C
Video Resolution: Full HD 1080p
Highlights
Scene Intelligence Auto Mode
Built-in Wi-Fi and NFC for remote device connection
Panasonic LUMIX FZ80 Digital Camera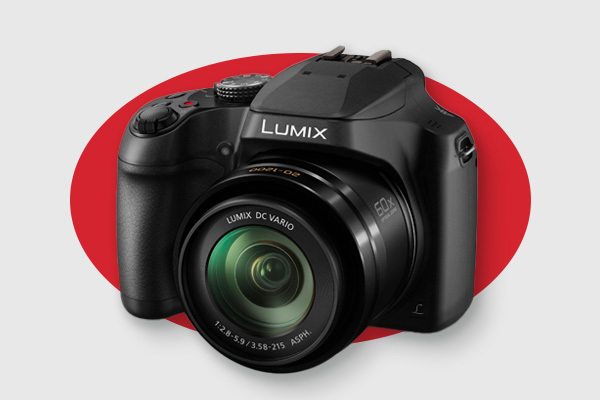 Last but surely not least is the Panasonic LUMIX FZ80 bridge camera. When discussing easy-to-use and affordable Panasonics, you may hear the LUMIX G7 name tossed around as a more credible camera. However, though not as cutting-edge due to features like not being an interchangeable lens camera, the FZ80 is still an impressive $300 – 400 less, making it the cheapest on the list. In terms of amateur photography, this camera is an excellent balance between decent quality for someone not willing to spend the extra funds yet. Although it's not up to professional standards, it's the type of cam you can take out for fun events or on vacation or adventures and still get significant usage.
The camera has decent 4K video Full HD 1920×1080 video at 60p. Its 4K PHOTO mode captures 30fps in 8MP, choosing the best photos from your 4K burst clip; good for sports photography moments. It's equipped with a .21″ 2,330K-dot Live Viewfinder and a rear monitor with an eye sensor. The 24-720mm Travel Zoom lens is versatile; however, unlike the other cameras, it will struggle in dim light or with fast-moving subjects. However, this camera is straightforward to adapt to and use and has decent stabilization features for noticeably less shaking.
Specs & Notable Features:
Price: $399.99
Sensor Resolution: 18 MP
Lens Mount: Fixed lens
Video Resolution: 1080p
Highlights
60x optical zoom
4K Photo mode
Take Away
That concludes our list of affordable starter cameras. The ideal thing to think about when selecting each camera is not only budget but what your primary usage will be. Another concept is that not every camera will have the same kits or lenses to pair. For example, the Canon EOS T7 provides a camera guide, battery charger, backpack, flash SD cards, and even a software edition. Click here to see what other great deals Focus can offer you, and may your photography journey be filled with lots of quality images and joy.
Regular price: $399.99

Regular price: $479.00

Regular price: $648.00