With nearly 7.6 million streamers on Twitch alone, gaming has evolved from what was once an intimate living room session to a massive shared spectacle with global couch surfers. Records are countlessly being broken as we speak, like that of the young star Kai Cenat who continues to stream past the former ceiling hitting 300,000 subscriptions on Twitch- Go Kai! But, outside of likable personality, what sets you up for success when you're streaming, creating, and going live? 
Your setup.
Keeping things fun as a creator is a part of the job, and keeping content current is a part of the work. But, Logitech's new Yeti GX, Yeti Orb, and Litra Beam LX bring fun to streaming in the simplest of ways. It's the thing you don't have to think about, the ambiance, and efficiency that uniquely elevates your Youtube, TikTok, Twitch, and endless amounts of other streams. And this applies to ASMR, gaming, educational, and musical categories alike.
The New Yeti Lineup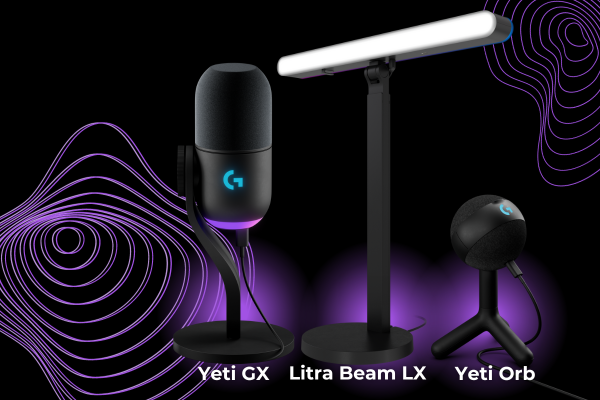 The Blue Yeti Microphone is no stranger to the creator world, it's been dominating streaming for quite some time. Proudly its successor, the Yeti GX has officially arrived. With a sleeker build, RGB lighting, and GHub software controller the Yeti has elevated in ergonomics as well as sound. Noise and key click rejection have optimized this mic for Gamers. And the glorious return is accompanied by friends! See below the Litra Beam LX and Yeti Orb.
The Litra Beam LX is a lighting genius. A thoughtful lamp bringing not only fun colorways but a soft-box (link to Softbox) like essence into a compact product body. With its TrueSoft Technology, the front-facing key light brings cinematic color and advanced diffusion into play. Goodbye, harsh shadows! Hello Vibrancy. Accompanied with a backlight capable of 16 million color combinations, the LX is a game-changer. Puns intended.
And, The Yeti Orb, is not only cute and compact but powerful. And, who doesn't love that? With RGB lighting, Blue VO!CE presets, and a quick plug-and-play setup. This successor to the Yeti Snowball is a fanciful upgrade emphasizing modern sound and feel. With the Yeti Orb, it's easy to be camera-ready.
Now when you Preorder any of these items get the chance to win an EPICBOOM. Offer ends 9/29.

In the dynamic world of streaming and content creation, staying at the top of your game is an around-the-clock job. Logitech's Yeti GX, Yeti Orb, and Litra Beam LX are the secret ingredients to elevating your content. An exceptional streaming setup makes all the difference helping you reach new heights in the world of online entertainment, and the new lineup clearly delivers. Are you ready to step your game up?
Check out some product spex below comparing the Blue series to the latest Logitech G release.
Product Highlights
Regular price: $149.99

Regular price: $59.99

Regular price: $149.99

Regular price: $349.99