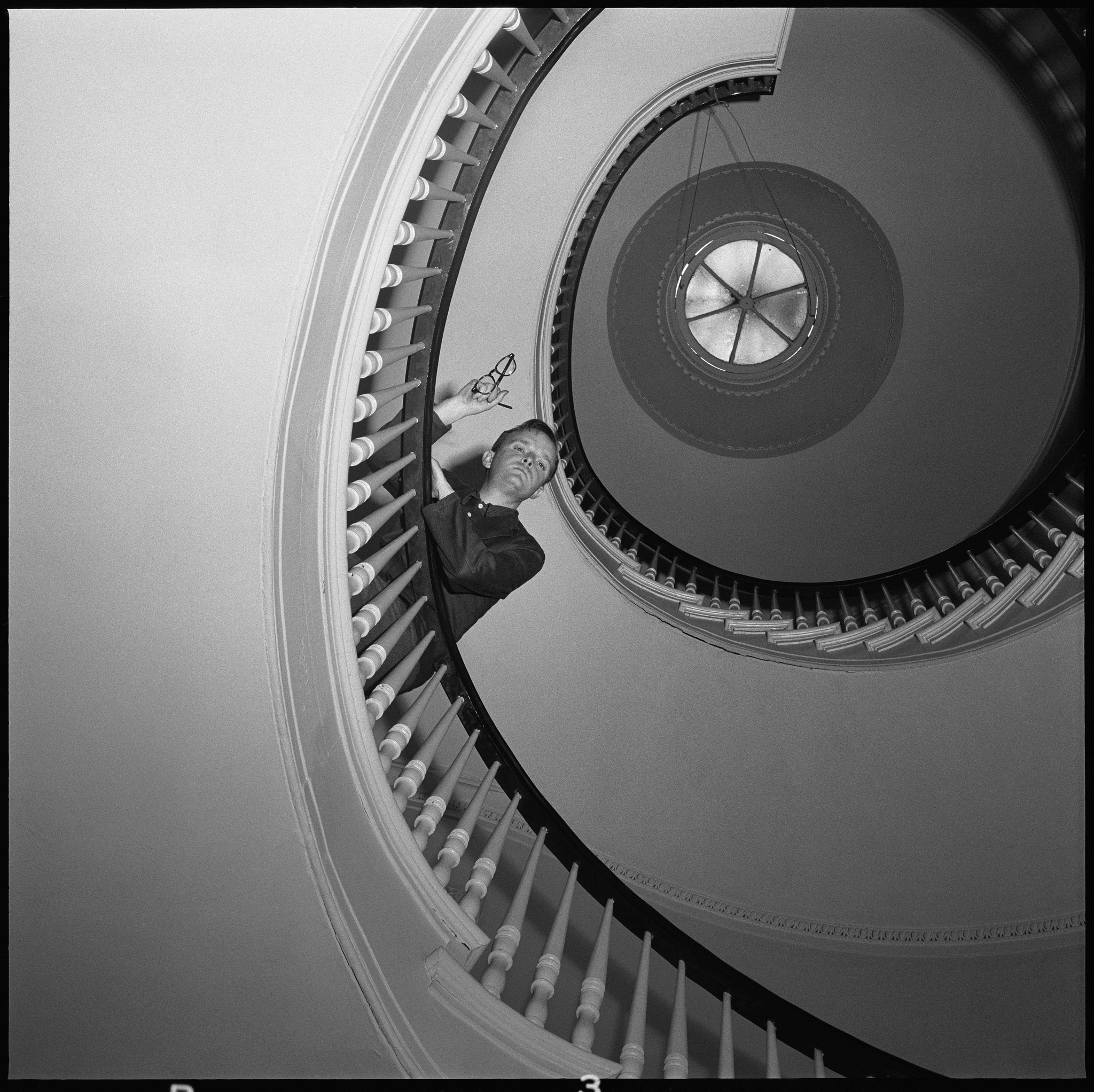 In 1958, Truman Capote lived in Brooklyn. By choice. "Often a week passes without my "going to town," or "crossing the bridge," as neighbors call a trip to Manhattan," he brags in Holiday magazine. "Mystified friends, suspecting provincial stagnation, inquire, "But what do you DO over there?""
At 33, Capote was young, irreverent – a rising literary star. His novella, Breakfast at Tiffany's, had been published to great acclaim. When Holiday magazine asked him to write a personal expose about Brooklyn for their February 1959 issue, Capote did so with characteristic relish. He also brought an unlikely companion to illustrate the shifting landscape of Brooklyn Heights: a largely unknown photographer, David Attie.
Attie took 800 photographs, of which Holiday used only four.  And none of Capote himself. Attie packed the remaining negatives away in boxes for almost sixty years, seemingly unimpressed with his own relevance.
"My dad grew up in Brooklyn, and probably didn't think that a bunch of images of Brooklyn were that remarkable," says Attie's son, Eli. "In the 70's and 80's, he was trying to focus his career on these almost psychedelic photo montages—which I think are quite beautiful too—and probably thought these kinds of shots were more ordinary by comparison.  I know that a few of these shots were images that he liked and had printed, but mostly it was a job to him, and he moved on."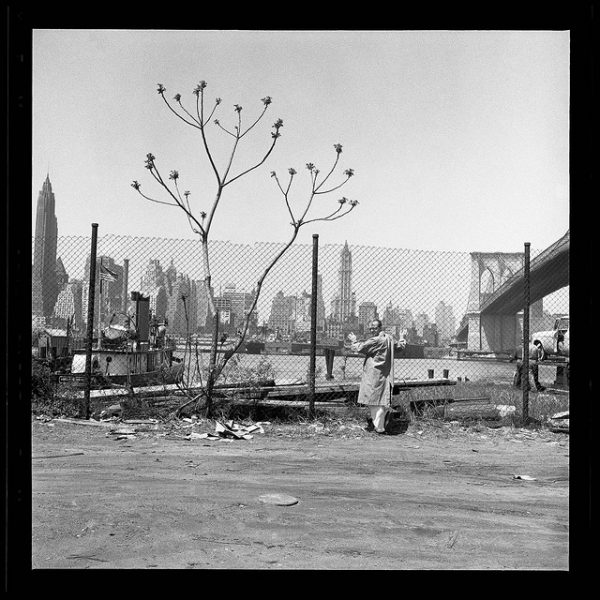 Eli stumbled across the images much later. He was looking for pictures that his father had taken of celebrities after a prominent rock photographer told him: "You need more famous people. Gather any pictures your father took of famous people. That's the only way anyone's ever gonna care." Eli hoped to enshrine something of his father's legacy within the popular canon, so he took the advice. He went to visit his mother in New York, and started digging.
"I found a small manila envelope labeled "Holiday, Capote, A3/58," he writes in the Afterword of Brooklyn: A Personal Memoir by Truman Capote, With the Lost Photographs of David Attie. "Now, I knew that my father had photographed some notables in his time—including Bobby Fischer and Leonard Bernstein and Lorraine Hansberry—but I had no idea he'd ever been near Truman Capote. And when I had the negatives printed, my jaw hit the floor. These were the coolest pictures of Capote I'd ever seen, framed like shots from a Hitchcock movie."
Paired with Capote's original essay, "A House in the Heights," Little Bookroom eventually published the images. From there, they morphed into an exhibit, "Truman Capote's Brooklyn: The Lost Photographs of David Attie," at the Brooklyn Historical Society.
"They capture all that you hear about the post-World War II decline [in Brooklyn]," says Marcia Ely, Vice President, Programs & External Affairs at the Brooklyn Historical Society. "After the boom in the 1950s, with white populations leaving the city and de-industrializing beginning, this was a neighborhood in transition. The photographs capture a moment when artists were moving to Brooklyn Heights because housing stock was inexpensive. Its heyday as an expensive suburb was over, and that's what Capote captured in his essay."
Attie followed Capote from his home at 70 Willow Street (Capote rented the basement, but told friends that he owned the entire house) through the shifting streets of Brooklyn Heights, where schoolchildren ran rampant, and bulldozers lay in wait to devour nineteenth century mansions.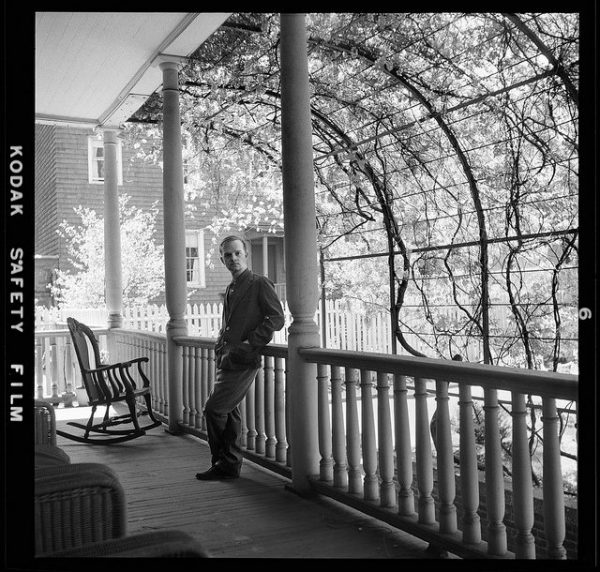 "One of the tensions that Attie captures is one of old versus new: developers, development, bulldozers, equipment," says Ely. "There was a moment when those who lived there didn't know what could happen. All these gorgeous gems could be brought down with hideous apartment buildings. There was no protection."
Indeed, Brooklyn Heights didn't become a historic district until the 1965, when community groups founded the Brooklyn Heights Association.
Still, Attie's images are joyous and highly peopled, whether by the "shrill Italian children" of Capote's essay, dock workers, or even W.E.B Du Bois and his wife, Shirley Graham. "How David Attie found his way to take those portraits on those same rolls of negatives is any anybody's guess," laughs Marcia Ely. "It's a little enclave." From the aging, elegant woman of old world Brooklyn to the artists, writers, and designers of a new, burgeoning arts community, Brooklyn Heights was a world unto itself.
"My dad never saw himself as a street photographer," says Eli Attie, "but these images show that he ranks with the very best of them, I think." Attie was more interested in experimental photographs. A student of Alexey Brodovitch at the New School, he pioneered an innovative negative sandwiching technique that landed him his first professional gig: creating whimsical collages for Breakfast at Tiffany's; a move that effectively launched his career.
"The story goes that Brodovitch was famously cranky," says Ely, "and that many of his students were afraid of him. David Attie messed up, and was in a panic that these photographs were not going to work well – the negatives were wrong. He threw his arms up in the air, and said I'm going to do something crazy and combine these negatives." Brodovitch was so impressed that he introduced the student to Capote. Thus, one can suspect that it was Capote himself, rather than the magazine, who invited David Attie on his Brooklyn tour.
"For me, the whole purpose of this project is to give my father a legacy, because he never really had one," says Eli. " My dad was an extraordinarily talented photographer for about 25 years, and managed to shoot some incredibly historic things—Bobby Fischer, just months before he won the world chess championship; The Band, at the very peak of their creativity; Ralph Ellison wandering around Harlem—just remarkable stuff.  And yet, because no one lifted a finger to keep his work and his name alive after he died, all of that great art was just sitting in boxes, gathering layers of dust."
"Truman Capote's Brooklyn: The Lost Photographs of David Attie" is on display at the Brooklyn Historical Society until Winter 2017.
All photographs taken by David Attie, used with permission from Eli Attie.