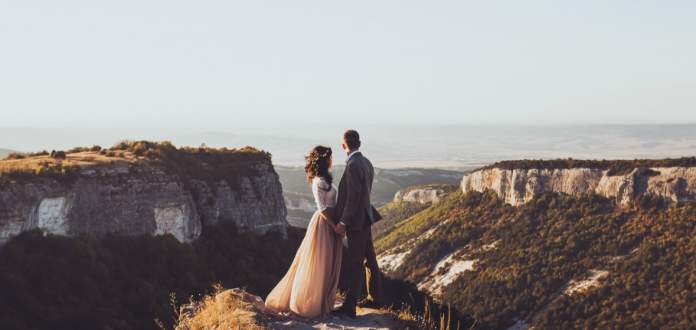 Planning a wedding stresses out even the most relaxed couples. One minute you're confidently adding people to your guest list and the next you're debating whose childhood friends are more important to have at the reception. These conversations combined with the average price tag of a wedding in the United States (close to $44,000) often lead to the same "joke" between couples: maybe we should just elope.
While we do love a traditional engagement shoot, this new attitude has led to a rise in elopements and, as a result, an increase in specialized wedding photographers. In this post, we list 11 of our favorite elopement photographers and guides (some of whom eloped themselves). Some are thrill-seekers while others specialize in intimate gatherings. However, all of these experts will give you an amazing wedding experience on your special day.
Elopement Photographers & Guides
1. More Van Anything
More Van Anything is one of the cuter teams on our list—Ryan and Jaclyn are a couple who met on a road-trip. Together, they base their lives in love, travel, exploration, and photography. The natural next step? Becoming elopement photographers (and recently videographers)! While they're big proponents of keeping things laid back, they also pride themselves in their pre-wedding planning process. This includes making a personalized portal to house recommendations on vendors, accommodations, hikes, timelines, and more.
"We don't believe in a ton of posing. It's more like a double date on the trail, which can help both of you stay relaxed. It also helps your friends and family connect with us better. Whether we're cracking silly jokes, drinking beer around a campfire, or just getting to know each other on the trail–we know how to help you feel relaxed and capture those raw moments." – More Van Anything's Website
View this post on Instagram
2. Vows and Peaks
Sean, the owner of Vows and Peaks, eloped to Northern Ireland with his wife and had an unforgettable experience. Now, he wants to give that gift back to other couples by helping them find a "home" for their vows. He boasts 24/7 planning support and his specialties include destination elopements, backpacking adventures, and even putting together an intimate wedding day for the couple and a select group of 10 friends and family.
"When you think back about your great day 20 years from now, I want to be part of your story. Let's embrace the real moments together. The love, laughter, hugs, kisses, sweat, mud, snow, and rain. I will be there with you every step of the way, but eloping is meant to be all about you and your partner, so I want to help make it the most fun and adventurous day of your lives!" – Vows and Peaks Website
View this post on Instagram
3. The Hearnes
Our next dream team of elopement photographers is Abbi and Callen Hearne who run The Hearnes. If there's one thing we can say about these two it's that they practice what they preach. They know the best cliff-side shooting locations because they've already scaled the surrounding rockface (a few times). Abbi and Callen are available for both US and international shoots and will fearlessly capture your breathless, fairytale moments.
"We are a husband and wife adventure wedding + elopement photography team with an emphasis on epic landscapes and grand adventure. Our photography style is adventurous, full of stoke, and centered around telling a true story. We strive to capture your wedding day in an authentic way, creating photos filled with emotion and beauty. We are outdoor enthusiasts (and advocates!) inspired by windy mountain tops, rocky deserts, icy glaciers, and red dirt (oh how we loooove that red dirt!). We believe there is no such thing as bad weather if you have the right attitude. Our couples prefer a peaceful, relaxed wedding day with an emphasis on their love for each other and for the outdoors. We capture the landscape AND the couple, and don't believe one must be less than the other." – The Hearnes Website
View this post on Instagram
4. Adventure Instead
Adventure Instead was early to the elopement game. The company was founded over ten years ago and has since been featured by the likes of the Travel Channel, InStyle Weddings, Brides magazine, and more. A dream team of three elopement photographers runs Adventure Instead. Together, they've collectively photographed and helped organize over 300 elopements all over the world!
"When you hire us—you're getting so much more than just a photographer. We are your wedding planner who helps you find the most epic spot to get married, your adventure partner, tour guide, and the person who helps you haul your essentials up a mountain. We're your best friend and cheerleader who will zip up your dress & tell you that you look amazing (because you do)." – Adventure Instead Website
View this post on Instagram
5. WhiskeySage
Through WhiskeySage, Lauren and Allen Cope offer gorgeous visuals and a refreshingly candid attitude toward wedding photography. The pair canceled their own big, traditional wedding in lieu of an elopement and vowed to help others ditch the same stressful, expensive trappings. Since then, they've coordinated and shot weddings for grateful couples all over the world from Tulum to Sedona.
"We're on a personal mission to fuel adventurous, fun and fulfilling elopement weddings and encourage more couples to ditch the stress, pressure and norms of traditional weddings. We're all about saying "no" to what doesn't feel good to you and saying "yes" to the values that fuel your love as a couple. We love couples like you; embracing your story of your journey together & choosing a wedding adventure that's symbolic and meaningful to you. If you're wanting to get wild, adventure and get your dress a little (or a LOT) dirty, you're in the right spot." – WhiskeySage Website
View this post on Instagram
6. Narrow Leaf Photography
Narrow Leaf Photography is a Wisconsin-based company that documents elopements all over the world. Cassandra, a photographer and nature-lover extraordinaire, founded the operation in 2014. Her work is rooted in two things: the idea that photography should never make you feel awkward and her deep dislike of "boring, stuffy, artificially-posed-and-obviously-fake photos."
"…I specialize in crafting unique experiences that go beyond standard traditions & strict societal ideas of how your wedding "should" be… Inspiring you to make new traditions, while celebrating your commitment to each other in a way that reflects you." – Narrow Leaf Photography Website
View this post on Instagram
7. Amy Bluestar Photography
Amy Bluestar is one of our favorite artists on this list of elopement photographers and her work speaks for itself. However, she also has a long list of endorsements from Cosmo, Junebug Weddings, The Knot and more to back up her skills. Whether you're interested in hiking with your partner or having a small gathering in a remote valley, Amy has your back.
"Elopements are about you and your partner. Do what makes you happy. Breathe in your love. Everything else is just background noise." – Amy Bluestar Website
View this post on Instagram
8. The Wayfarers
Alexander, the man behind The Wayfarers, is a North Carolina-based wedding photographer who specializes in all kinds of weddings from elopements to fully-fledged, traditional nuptials. His romantic vision delivers both precious memories and a complete look at the adventure, love, and laughter that go into shaping your wedding day.
"I've experienced a generous serving of human circumstances that have made me laugh (the loud kind), cry (the ugly kind), and wonder how fortunate I am to have come upon such a wild and strange life. I'm deeply fascinated by how we live: the peculiar relationships we each share with one another, the weird glances between lovers. In between hiking, camping, and discussing which bourbon is best (there is no best bourbon), you'll find me photographing a story somewhere in the world. For me, it's less about what things look like, and more how things feel. If you're into that, we're probably kindred spirits :)" – The Wayfarers
View this post on Instagram
9. The Foxes Photography
The Foxes Photography was founded by a (very adorable) couple named Gabi and Brandon. Their journey began when they gutted a 1972 Airstream and started touring the United States. They quickly fell in love with traveling, photography, and the idea of elopement shoots. Since then, they've put together their "Foxpack" of photographers and coordinators who help turn your elopement fantasy into a reality.
"Between everyone in the pack, we have a wealth of knowledge and expertise in traveling and documenting adventures all over the world. When you work with a member of the Foxpack for your elopement, you aren't just working with that photographer; you're working with an entire team of elopement experts who are dedicated to crafting and capturing unforgettable adventures." – The Foxes Photography
View this post on Instagram
10. Charleton Churchill
Photographer Charleton Churchill has an Ansel Adams-esk eye that delivers equal-parts wedding photography and frame-worthy landscape shots. He is perhaps best known for his showstopping Mount Everest adventure wedding shoot in 2017. That was the gig that gained him international attention. However, his collection of work shows that he's much more than just an Instagram sensation.
"I love photographing people. It's not only because of the epic photographs we capture on mountain tops (though that is exciting). It's not because of the real life candid and documentary approach we use to grab those moments of real emotion. For me, it's about the experience and adventure of doing it together. I enjoy challenging and encouraging my couples to get the best out of them. We are a team and we work together while having fun." – Charleton Churchill Website
View this post on Instagram
11. Colby and Jess
Last but not least, Colby and Jess are elopement photographers who have spent the last 8 years photographing over 250 weddings. They specialize in environmental portraiture and appreciate any couple willing to hike a mountain to get the perfect shot. We recommend them to anyone interested in awe-inspiring landscapes and spectacular results.
"Intimate weddings in epic outdoor locations with the focus on celebrating two people in love are our favorite stories to tell. We've been trusted by over 300 couples to document their unions. With our plentiful wedding experience we're there not only to take photos but to help make your day stress-free, allowing you to focus on being fully present during this amazing time in your life.  From the planning stages until your photos are delivered, we've got your back." – Colby and Jess Website
View this post on Instagram
That concludes our roundup of amazing elopement photographers! Lovebirds, which would you rather have—an elopement or traditional wedding?
Regular price: $3,498.00

Regular price: $2,296.95

Regular price: $1,199.00

Regular price: $1,349.90