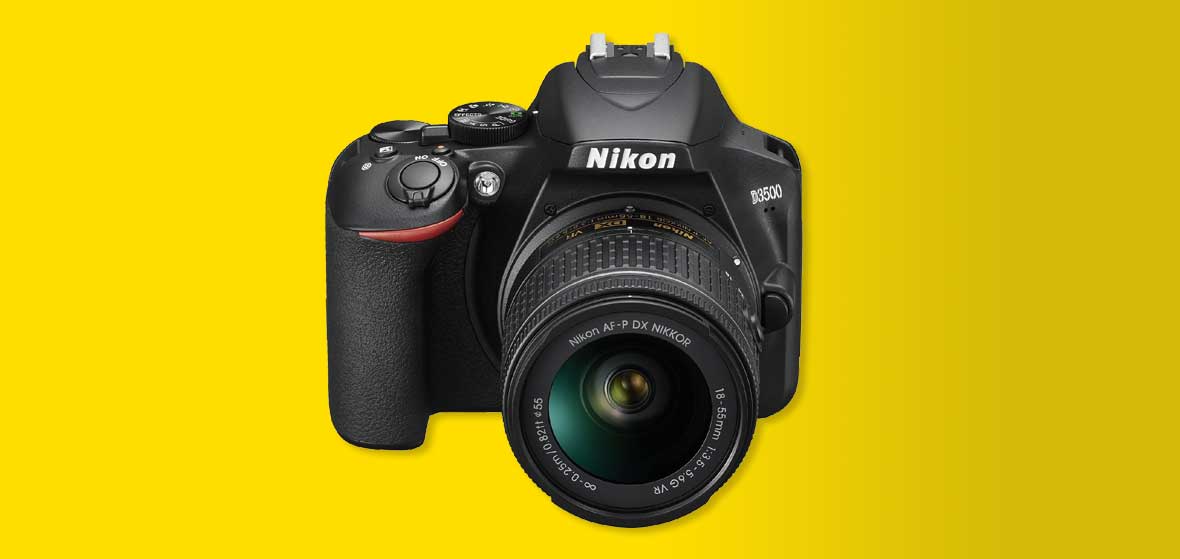 Investing in your first camera is stressful. There are a lot of considerations—including price and numerous specifications—that leave people wondering which beginner DSLR camera is the best? While there are a wide array of options, Nikon consistently offers exceptional and affordable cameras in the amateur category. 
Bye Bye, Buyer's Remorse
The Nikon D3500—Nikon's latest and greatest entry-level DSLR camera—is made with beginners and family use in mind. It's hyper-portable and gives you even better specs for your money than its impressive predecessor, the Nikon D3400. It's also cost-effective; the Nikon D3500 price falls around the $500 mark, an important factor if you're not quite ready to spend thousands on a pro camera. 
There are a few key upgrades to the Nikon D3500 specs that make it a definitive upgrade from the previous model: it has an Expeed 4 processor, better battery life and it weighs less than the D3400. It's a small camera, but it packs a punch. If you want to take a closer look at the last model, we also have a detailed Nikon D3400 review.
Photography 101
Guide Mode is a key feature that makes this an easy-to-use, beginner DSLR camera. Just toggle to Guide Mode on your dial and choose from a long list of easy and advanced actions that will automatically adjust your settings. Examples include: softening a background, taking lighter or darker photos, bringing a larger area into focus and reducing blur. Now you can spend less time Googling and more time shooting.
A Perfect Fit
The D3500 feels great in your hands. It's very light (12.9 oz.), balanced, and has a substantial handgrip. That said, this model sacrifices screen versatility for size. It isn't a deal-breaker, but the LCD screen on the back of the body isn't a touchscreen and it's fixed, so it can't pivot or tilt. Two minor inconveniences for the sake of portability.
Stay Focused
When you're still learning how to frame the perfect shot, taking time to manually focus your camera is a huge pain (especially in low light). This model has quick, 11-point autofocus that—combined with the D3500's 24.4MP sensor—picks up an incredible amount of detail.
It also has built-in 3D focus tracking for continuous shooting at 5 frames per second. Tracking analyzes your subject's speed and direction then predicts their position at the moment an image is captured. Pair it with a telephoto lens like the Nikkor 70-300mm f/4.5-6.3G ED to get perfect shots of once-in-a-lifetime moments.
Battery Boost
The D3500 has an impressive 1,550 shot battery life. This means that in one sitting, you can take 1,550 shots of your cousin's wedding, the vacation destination of choice or your dog's birthday party. In short? It provides more than enough shooting time.
Lights, Camera, Full HD
We can't always plan when video-worthy moments occur. Sometimes, extraordinary things just happen. While this beginner DSLR camera is primarily meant for still photography, you can also shoot up to 20 minutes of high-quality footage in 1080p. It has a built-in speaker so there is no need to attach a mic—just switch to recording mode and start capturing.
Stay Connected With SnapBridge
Many first-time camera owners are looking for a step up from their smartphone. Nikon's free SnapBridge app gives you the best of both worlds; it uses Bluetooth® to transfer and sync images from the D3500 to your smartphone in real time. This is an amazing feature if you want to share images with your family, friends and social media followers in real time.
That concludes our Nikon D3500 review. If you tried this model and have additional feedback or critiques for would-be camera owners, let us know in the comments below. Similarly, if you have any questions about Nikon D3500 specs, please feel free to leave them in the comments section.
Sample Nikon D3500 Photos