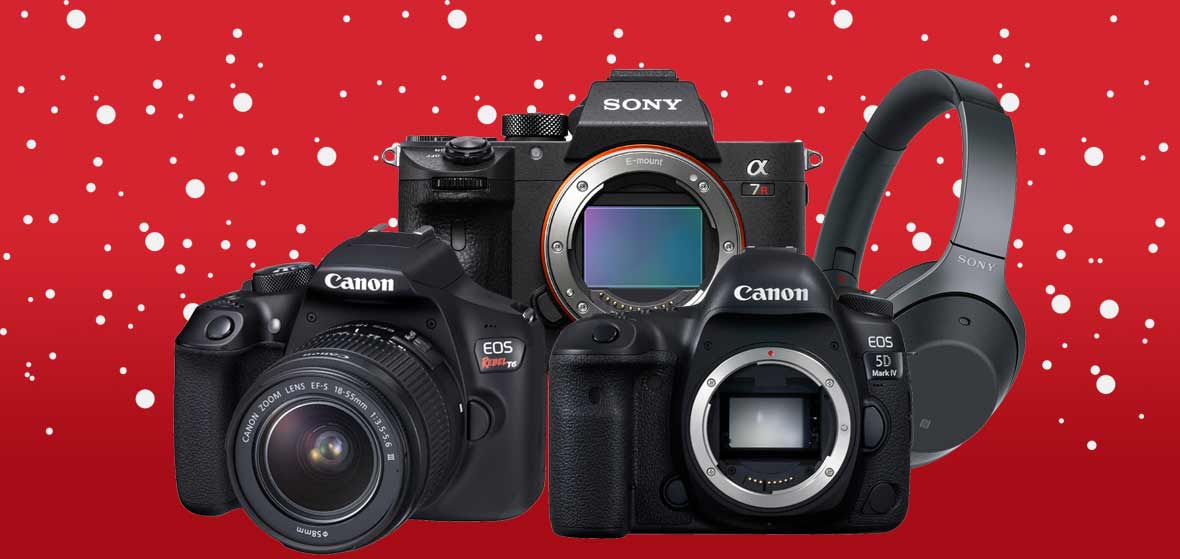 Nothing fills us with holiday cheer quite like a good Black Friday bundle. We all scramble to get our holiday shopping done as quickly and as cost effectively as possible. The easiest way to do that? Get the perfect gift and everything that goes with it in one neat, curated kit. Scroll down to get a sneak peek at our best Black Friday Deals 2018.
$749 $399
This core bundle includes the EOS Rebel T6 body, a shoulder bag and two lenses: the EF-S 18-55mm f/3.5-5.6 IS II and EF 75-300mm f/4-5.6 III.
Canon EOS Rebel T6
The Rebel T6 is great for smartphone or point-and-shoot camera owners who want to upgrade their equipment to something more serious. It has an interchangeable lens mount, shoots HD video, and houses an 18.0 Megapixel CMOS image sensor and DIGIC 4+ Image Processor that ensure your photos are crisp and colorful. It is also WiFi and NFC enabled so you can shoot, connect and share in real time!
Lenses
This bundle comes with two lenses. First, the EF-S18-55mm F/3.5-5.6 IS STM is a reliable, standard lens with built-in image stabilization that works while you're shooting photos or recording video. The Canon EF 75-300mm f/4.0-5.6 III Zoom is a lightweight telephoto lens that is ideal for shooting sporting events and wildlife.
Our Black Friday deals 2018 include bulkier bundles with everything listed above plus a host of other useful accessories. Among other items, the first bundle has a 5-piece digital accessory kit, additional card reader, memory cards and a flash. The second bundle includes additional memory cards as well as a Corel Software Kit.
$998 $598
This is the lowest price ever for this bundle! It includes the Sony Alpha a6000 mirrorless camera and two lenses: the EF-S 18-55mm f/3.5-5.6 IS II and EF 75-300mm f/4-5.6 III.
Sony Alpha a6000
This mirrorless camera does not sacrifice features for size. The small and powerful Alpha a6000 boasts a 24.3 MP Exmor® APS HD CMOS sensor, the world's fastest autofocus, and a BIONZ X Image Processing Engine that reproduces details in real time as seen by the human eye (woah). Usability highlights include a 3 inch tilting LCD screen, customizable UI, and One-Touch remote sharing capabilities.
Lenses
This bundle includes a standard and telephoto lens. The standard is a 16-50mm lens that's a great balance to the Alpha a6000's lightweight body. The 55-210mm telephoto lens is equipped with 3.8x magnification, built-in image stabilization and is ideal for long-range photography.
We have three additional options if you want the camera and need more gear. Our three kits include a 16-50mm Lens and Gadget Bag, Gadget Bag and 32GB SD Card, and 16-50mm Lens & Four 32GB SD Card.
#3 Sony Wireless Noise Canceling Headphones with Portable Wireless Speaker
$446 $198
It's not all about the cameras! Invest in this bundle for perfect sound at home and on the go. This bundle includes the Sony WH- 1000XM2 Wireless Noise-Canceling Headphones and Sony SRS-XB21 Portable Wireless Bluetooth Speaker. 
Sony Noise-Canceling Headphones 
The Sony Wireless Noise Canceling Headphones have industry-leading noise canceling technology and automatically adjust to provide an individual, optimized listening experience. It responds to a wide range of external factors including atmospheric pressure and your current activity (walking, standing outside, etc.).
Sony Wireless Bluetooth Speaker
This sleek, portable speaker features extra bass and live sound mode, up to 12 hours of battery life, and can connect with up to 100 other true wireless speakers with Wireless party chain. That is not a typo, it truly connects to 100 speakers. It's also lightweight, waterproof, dustproof, and rustproof making this the perfect beach speaker.
#4 Canon 5D Mark IV w/ Battery Grip
$3,299 $2,799
This bundle includes the Canon EOS 5D Mark IV DSLR camera (body only) and a Canon BG-E20 battery grip.
The Canon 5D Mark IV
This camera features an ISO range of 100–32000 (expandable to 50–102400), making it the perfect camera for low-light photography. Other highlights include a 30.4 megapixel full-frame CMOS sensor, 4K video, a brilliant 3.2" LCD touchscreen and advanced autofocus and imaging technology that allows the 5D Mark IV to shoot up to 7.0fps. Use the built-in WiFi and NFC so you can capture and share in real time.
The Grip
When you're out shooting all day you don't want to stop and switch out your battery. Pausing might not even be an option depending on the situation. This grip is designed to fit your hand perfectly and load one or two LP-E6 battery packs.
#5 Sony a7r III
$3,198 $2,799
We are offering one of Sony's most popular cameras—the Sony a7r III—at its lowest price of the year! This model provides pro-level settings in a strong, compact body designed for portability. It features a back-illuminated 42.4 MP full-frame sensor, high-res 4k HDR and shoots up to 10 fps with AF/AE tracking. It also supports WiFi and NFC functionality for quick, easy sharing on the go.
Like the cameras above, our Black Friday deals 2018 will also include Sony a7r III bundles. The first includes the a7r (body only) a 64GB Class 10 UHS-II SD Card, weatherproof base and Wasabi Power Charger. The second bundle includes all the same items except for the memory card; this kit includes a 128GB UHS-II SD. Finally, the third bundle features a host of items including a video tripod, four 64GB Ultra UHS-I Class 10 SDXC memory cards, battery packs, the Digital Treasures creative & office software (for PCs) and more.
These are only some of our favorite Black Friday 2018 deals! Check out our homepage to explore additional products and holiday deals.
Regular price: $399

Regular price: $598