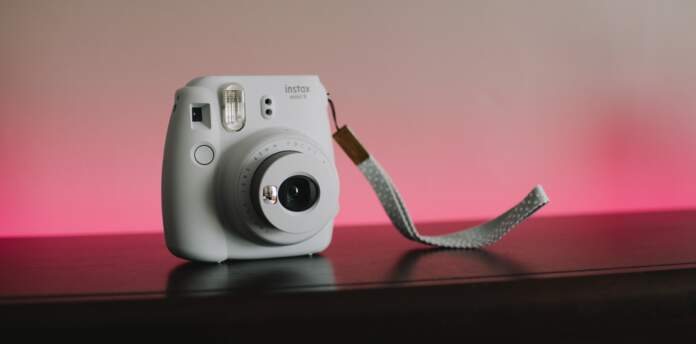 It's almost the new year! And with the new year comes unique memories to reflect on, so what better way to savor those moments than with an instant camera or portable printer photo? To help you relish more of these warm moments moving forward, we've compiled a list of the best instant cameras and photo printers in 2022. Hope you enjoy and have a happy New Year's!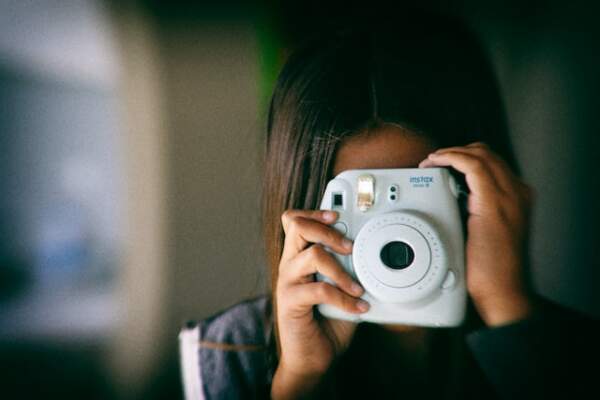 What's an Instant Camera & Instant Printer
Similar to how it sounds, an (analog) instant camera uses good ole' film to produce mini photos almost instantly after you snap a picture. Instant photo printers are another way to quickly developed film photos, but they use the process of transferring images from a smartphone to printer (typically via Bluetooth). 
Instant cameras are slightly more niche for those who favor the feel of shooting photography with a traditional handheld camera. In contrast, instant photo printers are more universal because most people capture images on their phones anyway. Smartphone users can select pictures from their saved photos and make them come to life using an instant photo printer.
Why Use An Instant Camera/Portable Printer
The age of hi-tech smartphone technology and versatile digital cameras allows users to take hundreds of photos and even post them to social media in seconds, quickly and conveniently. However, film photos give you moments to physically hold on to and share with others. No matter where you rank the best instant camera or photo printer on your list, they all share a unique attribute of tangibility.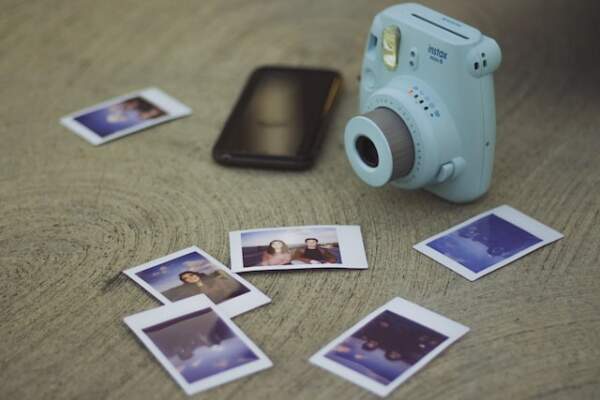 Instant cameras teach you to value every shot; you can't just digitally delete an entire photo album or SD card and retake pictures. There's something nice about witnessing a film camera print photos in front of your very eyes; a timeless moment captured in film. 
Like social media, analog cameras help us to connect and reflect on shared images. However, it's face-to-face instead of over the internet. You don't need to be a photographer to use an instant camera or photo printer. Instant cameras are great for kids, teens, adults, and all hobbyists from different walks of life—their portable, vintage-looking (which I personally like), and satisfying to use. You can use them to capture weddings, travel trips, friendly gatherings, and more. You can post them on your wall or fridge, make a photo album/collage, and even give them to friends as gifts.    
Fujifilm Instax Mini 11 Instant Camera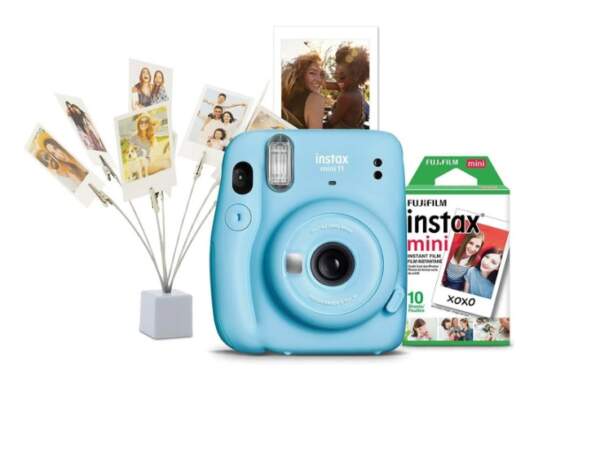 The aesthetic of the Instax Mini 11 instant camera is elegant and sleek, and it comes in some loud colors like blush pink, sky blue, and lilac. If you want your instant camera to stand out with style, the Mini 11 is a perfect choice. This comes with a selfie mode and a macro feature for flawless close-up shots. 
Fujifilm Instax mini 11 instant camera, Instax Mini White-Bordered Instant Print Film (10-Pack), Photo holder clip stand that holds up to 8 Instax Mini Photos.  
Highlights:
Debossed instax logo on film door
Transparent ring lens
Built-in macro mode and selfie mirror for Selfie Mode
Includes shutter button design accessories for customizatio
Fujifilm Instax WIDE Instant Smartphone Printer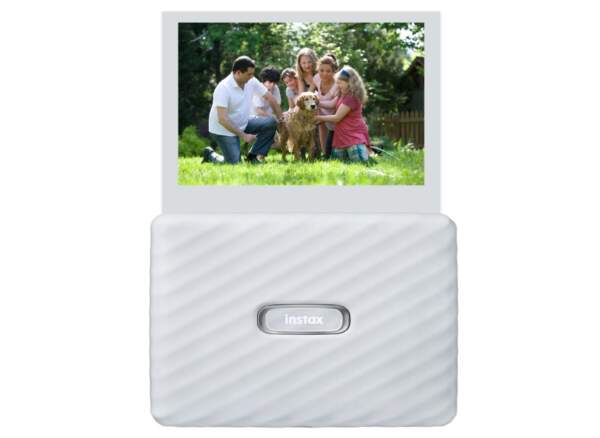 The Fujifilm Instax Wide smartphone printer has a variety of whacky and fun features to help users express their creativity in unique ways. The Instax Link Wide app (APP NAME) allows you to add text, apply filters, resize images, and more. Connect your smartphone to printer via Bluetooth and let the magic unfold. 
Before printing your film, you can choose between Instax-Natural mode for natural image quality or Instax-Rich mode to add more color contrast. Plus, you can access 30 editing templates for creating personalized messages. Everything from greeting cards and invitations to even adding QR codes on your photo containing recorded sounds and secret messages. 
Fujifilm Instax Wide Instant Film Twin Pack (20 Exposures), Focus Camera Polaroid Postcard Set (20-pack, 10 Plain/10 Mixed), and the Focus Camera Film Kit for Polaroid i-Type, 600 and SX-70 with 20 Postcards, 6 Frames, and a storage box. 
Highlights: 
Print instant film in wide-format
Compatible with Instax WIDE film
Bluetooth Ver. 4.2
Portable on-the-go design
Bring moments to life in rich mode
QR Print mode gives a variety of options
Polaroid NOW+ Instant Film Camera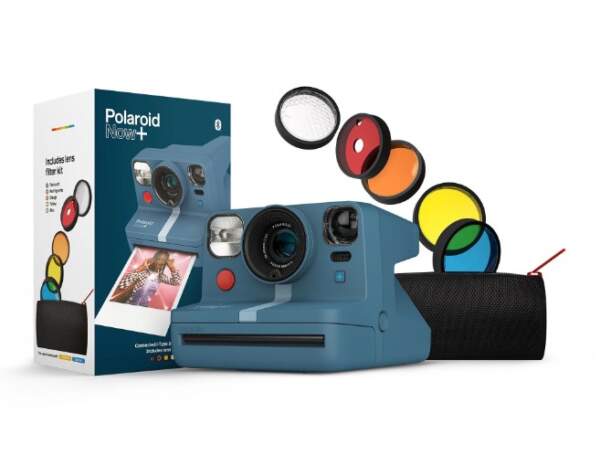 The Polaroid Now+ has an iconic look with great qualities to match. It uses an Auto-Focus 2-lens system to help set you up with the best quality shot. On top of this, it has a built-in double exposure system, self-timer (up to 9 seconds), smart flash for more accurate photos, and a rechargeable battery. Download the Polaroid mobile app to add aperture priority and tripod mode for peak optimization.  
Kit includes: 
Five creative lens filters, a USB charging cable, and a neck strap.
Kodak Mini Shot 3 Retro Camera (Printer Combo) 
Like Kodak's photo printer, the Mini Shot 3 Retro Camera uses laminated photos and 4Pass technology to print durable, long-lasting film. Users can quickly replace the film, click, print, or easily cancel unwanted pictures. You can also connect to a mobile device via Bluetooth to print photos from your photo gallery. 
Highlights:
Regular & Portrait Lens
Manual Mode & Double Exposure
Light Painting & Self-Timer
Autofocus &Smart Flash
Tripod Mount
Canon IVY CLIQ+ 2 Instant Camera Printer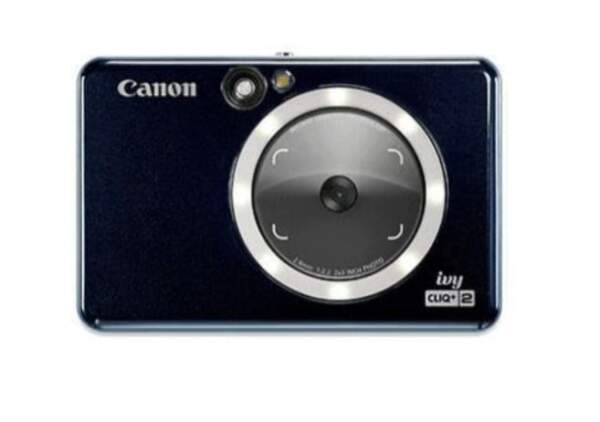 The Canon IVY CLIQ instant camera printer has an 8MP image sensor and ZINK Zero ink printing technology, eliminating the need for ink (saving you a few dollars). The 8″ LED ring light makes selfie pictures look extra lovely plus, each photo uses a peel-and-stick backing, so you place them where you please, like on the fridge or bedroom walls. You can use the Canon Mini Print App to add filters, effects, and emojis. 
Canon IVY CLIQ+ 2 Instant Camera Printer  
The Canon IVY CLIQ instant camera printer has an 8MP image sensor and ZINK Zero ink printing technology, eliminating the need for ink (saving you a few dollars). The 8″ LED ring light makes selfie pictures look extra lovely plus, each photo uses a peel-and-stick backing, so you place them where you please, like on the fridge or bedroom walls. You can use the Canon Mini Print App to add filters, effects, and emojis. 
Highlights:
8MP image sensor
ZINK Zero Ink Printing technology
Instantly prints 2 x 3 inches photo stickers
Smudge-free, water and tear-resistant
Peel-and-stick backing
Kodak Mini 3 Retro Printer Portable Instant Photo Printer
The Mini 3 Retro Printer uses 4Pass technology to print stunningly timeless mini photos resistant to water and fingerprints. This photo printer allows you to choose between border or borderless images; if you prefer slightly larger prints, you can always eliminate borders. Simply download the Kodak Photo Printer app and have fun creating frames and filters. The Mini 3 Retro is a good choice if you want more budget-friendly instant photo printer film.  
Cartridge box (60 sheets), User Manual, USB cable, and sample cartridge (8 sheets).
Highlights:
4Pass Technology to print flawless photos instantly
Supports both border and borderless-type photos
Fits right in your hands and your bag to conveniently print
Fujifilm Instax Square SQ20 Hybrid Instant Camera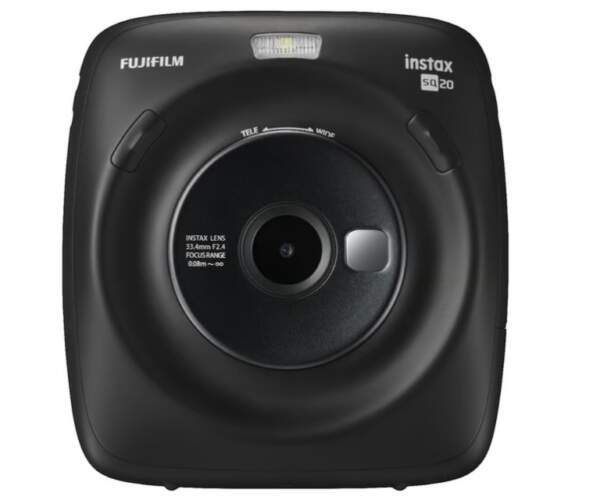 The Instax Square SQ20 Hybrid instant cam uses a digital image sensor and processor to produce pristine hi-res photos. Unlike typical instant cameras, lowlight scenes are not a problem for the Instax SQ20. You can create 62mm x 62mm square film photos and utilize its impressive 4x digital zoom to make sure no shot is out of reach.
Enhance saturation, and apply a vintage look or the vignette effect for unique portraits. It uses a smart-tech LCD monitor to make editing photos seamless; plus, you can add digital filters, control brightness, and zoom and crop images for many creative possibilities. Users can choose to apply image effects before and after snapping a pic.
Highlights:
1/5″ CMOS sensor with primary color filter
1920×1920 effective pixels
62mm x 62mm square instant photos
Fixed focal length at 33.4 mm (35mm equivalent)
Polaroid Original Instant Lab (with i-Type Color Film)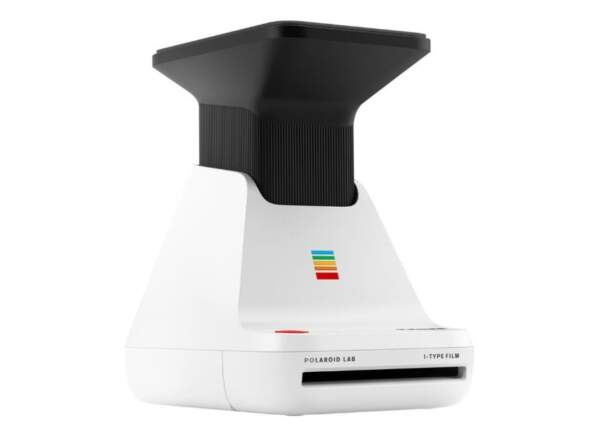 Dig up those delightful digital memories and transform them into something tangible with the Polaroid Original Instant Lab. Rather than connecting your smartphone to printer via Bluetooth, the Original Instant Lab uses a 3-lens system to expose the image on your phone screen to Polaroid Film. Afterward, the image is developed into a Polaroid picture.  
This retro film device also uses an app that allows you to create a photo collage of up to 9 frames. Plus, you can use its augmented reality tool to overlap still images onto motion pictures for a world of endless expressions at your fingertips. 
Kit includes: 
Polaroid Originals Instant Lab, Polaroid Originals Standard Color Film for i-Type Cameras, and Polaroid Accessory Bundle with Transparent Hanging Album, V Frame, and Paper Frame. 
Highlights: 
Turns digital photos into instant Polaroid pictures
Uses a 3-lens system that acts like a desktop darkroom
No printing or scanning, just 100% real film chemistry
Compatible with Polaroid Originals app
Fujifilm Instax Mini EVO Instant Camera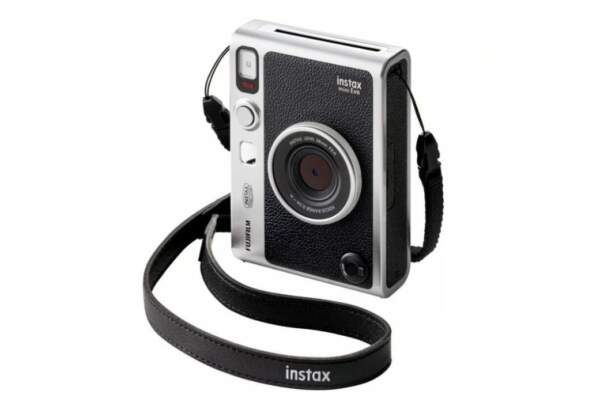 The Instax Mini EVO Hybrid instant camera is a bit pricier, but for a good reason. This sleek hybrid camera has ten lens effects and ten film effect options for tons of creative experimentation. You adjust exposure, and white balance, control the flash (on/off) and use Macro mode for close-ups.  
You can print film photos or take those moments to social media using the Mini EVO app.  You'll get vividly bright image quality with the INSTAX-Rich mode and cool classic colors with the INSTAX-Neutral mode.   
Focus Camera Polaroid Film Kit for Polaroid i-Type, 600 and SX-70 Cameras, 3 x Magnetic Frames, 10 x Hanging Frames with Clips, Stationery Storage Box, 20 x Focus Camera Instax Mini Postcards/Letters with Envelopes, 10 x Plain White Postcards, 5 x Striped Postcards, 5 x Multicolored Squiggle Postcards, Stationery Storage Box, 2 x Metallic Pens 
Highlights: 
10 lens effect options and 10 film effect options
Built-in selfie mirror so you're perfectly framed for a selfie
Dual shutter buttons – portrait and landscape
Requires download of free Instax Mini EVO App
Fujifilm Instax Mini 40 Instant Camera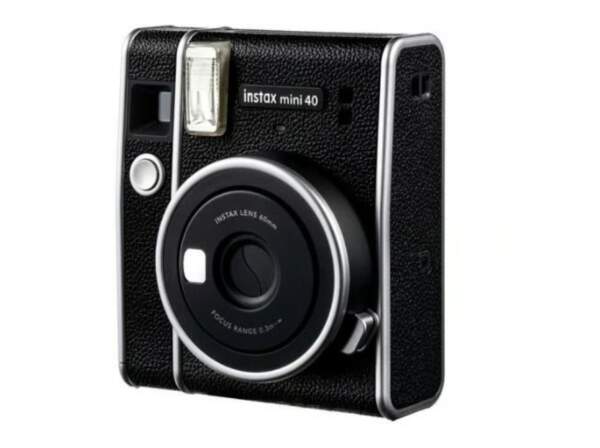 The Fujifilm Instax Mini 40 instant cam has a rougher, more edgy look. It takes about 90 seconds to develop photos and has built-in selfie mode for fun selfies all day long. You can pull out the lens to help make those mirror pics seamless and stunning. And its automatic exposure mode allows the camera to account for light settings within your scene for picture-perfect moments. 
Highlights: 
Produces instant print
Built-in one-touch selfie mode and selfie mirror
Built-in automatic exposure for ideal pictures every time
Constant firing flash