Last night Focus Camera attended the opening reception for a new photography exhibition by Paulette Tavormina: Natura Morta. The event took places at the Robert Mann Gallery in Chelsea.
Tavormina's work is inspired by the artistry of Old Master Still Life painters like Giovanna Garzoni, Francisco de Zurbarán, and Adriaen Coorte. As she asserts in her artist's statement:
"Seventeenth century Europe witnessed an explosion of interest in the natural world. Botanical encyclopedias from the period are records of the discoveries made on extensive explorations during this "Golden Age" of global trading. Still life painters incorporated shells, insects, exotic fruits, and flowers found abroad alongside Venetian glass and Chinese porcelain. Their vignettes served as a tribute to newly discovered corners of the world. Worldly in their composition, these paintings also speak to universal themes as relevant then as now: the fragility of life and love, fleeting beauty and tempus fugit, the swift passage of time."
Courtesy of Paulette Tavormina
The only thing that is richer than the color in these photographs is the details. We could have stood for an hour at each one, finding secrets of a hidden ladybug or stray leaf. However, we were on a mission to make a video!
The Focus Camera team was very happy to talk to many enthusiastic gallery attendees including Jeffrey Kane—a representative of the company printed the photographs—and Paulette Tavormina herself! We would like to thank everyone we interviewed for being so gracious and eloquent.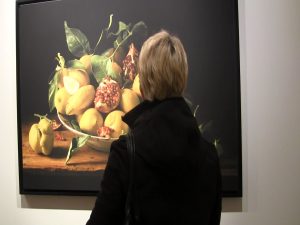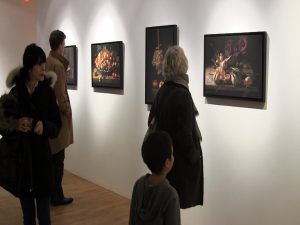 We highly recommend you go and see these enchanting photographs with your own eyes at the Robert Mann Gallery.