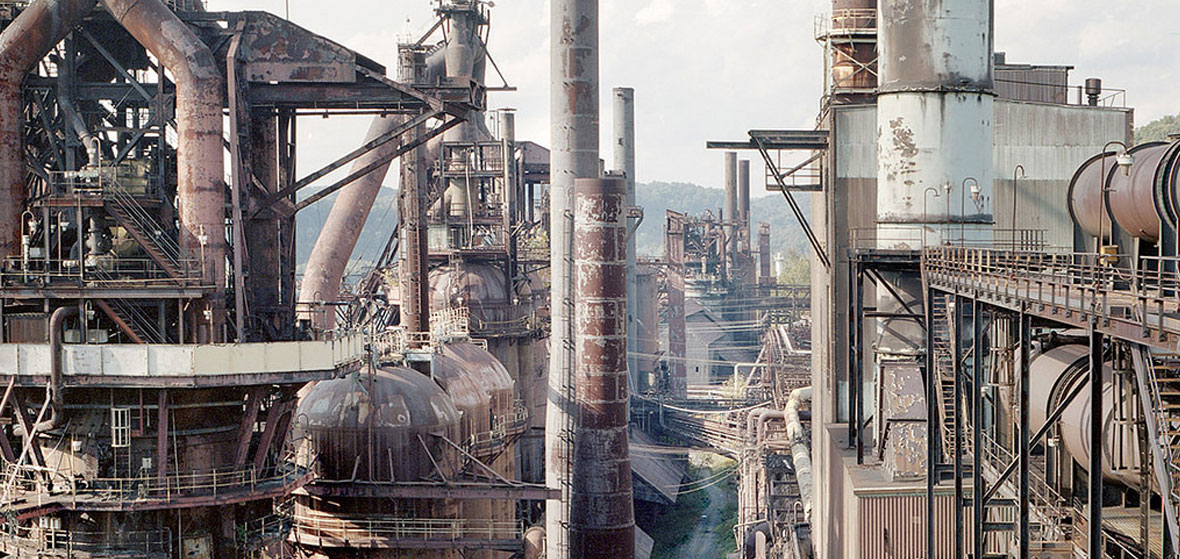 "There are a lot of names for the hobby," says Vince Herbe. "I would say that I'm an ameture documentarian of industrial wastelands." Herbe started photographing abandoned and decaying spaces like hospitals and factories fifteen years ago. "I was hanging out at a punk show. This guy came up to be and struck up a conversation. He asked me what I was into, and at the time I was just into music. He said he was into abandoned buildings."
From there, he took Herbe to visit the abandoned Philadelphia State Hospital at Byberry, a former psychiatric institution for people ranging from the mentally challenged to criminally insane. "It was terrifying at first," says Herbe. "Then I started going every weekend."
A Trenton, New Jersey native who took frequent trips to Philadelphia as a kid, Herbe was accustomed to sites of urban industry. "I grew up in a family that worked in factories," he says. "I worked in factories as a teenager. That history relates to me." As an adult, he began to seek out other ameture historians to teach him more about Philadelphia and the industrial past. "They would show me history books and different places," says Herbe. From there, he learned to "hold space for the past" through urban exploration and photography. It's something he tries to impart on new photographers, too.
"I love when I meet someone who is new and interested," Herbe says. "I like to pick their brain and see where their heart is. One thing I emphasize is a respect for history and cautiousness. I see a lack of it in the hobby nowadays."
Indeed, with the help of Instagram and social media, this type of industrial documentation has exploded in recent years. "I have seen many places get ruined fast by Instagram and other forms of social media," says photographer Daniel Genuario. "Whether it be through vandalism, fire, or just being sealed because people have drawn too much attention to it."
In an attempt to conserve the integrity of spaces, some photographers withhold their locations. "I have been called an "elitist" by other people because I wouldn't give them locations," says Genuario. "It's sort of a dichotomy, so locations that I am really protective of I just won't post photos of. I think the bottom line is if you have a place you care about and don't want anyone to know about it, just don't post it on any social media."
The increase in new photographers unfortunately translates to an upswing in casualties as well. "I always emphasize the buddy system. Not everyone has respect or is safety minded," says Herbe. "A girl died a couple of months ago when she went into a drain with her boyfriend to take pictures. They didn't look at the weather. When it rains you don't do drains. It dragged them both under."
Herbe, for all his precautions, still comes away with a few scrapes and bruises. It's the nature of the hobby. Once, he twisted an ankle at an abandoned subway station. "I was folding up my tripod while running and not looking, and I ran right off the edge of the train platform. I landed on the third rail." Another time, he fell through a hole in the floor in a building in Cleveland. "I couldn't lift myself out, so I just dropped into the basement."
Photographer Chris Kiely agrees that just finding a safe way into abandoned spaces is tricky, let alone photographing them. "The most difficult aspect is physically getting yourself to these places." It's a long and involved process. Once inside, he tries to capture "the feeling of being there in person," which includes conveying how the space was used before it was abandoned.  "For example, at an old factory, I'll try to photograph machinery or architectural features specific to that type of industry. If I can accomplish this in a thought provoking way all wrapped up in an interesting composition, I'm happy."
In addition to physical safety, there's also the issue of keeping your gear clean. "Most surfaces in abandoned buildings are covered in years and years of grime," says Kiely. "I often look at my lens before I shoot to make sure there is nothing on it. Then when I get home, I disassemble everything and clean piece by piece."
Although photographers shoot to capture eerie and mysterious pictures of industrial wastelands, many prioritize the exploration itself. "I'm still more into the day to day rush than putting my stuff out there," says Herbe. "With most people, if their heart's not in it, they're not going to keep doing it."
Featured image and image 3 copyright Chris Kiely. Images 1 and 2 copyright Vince Herbe. 
Regular price: $1,299.00

Regular price: $749.00

Regular price: $1,598.00