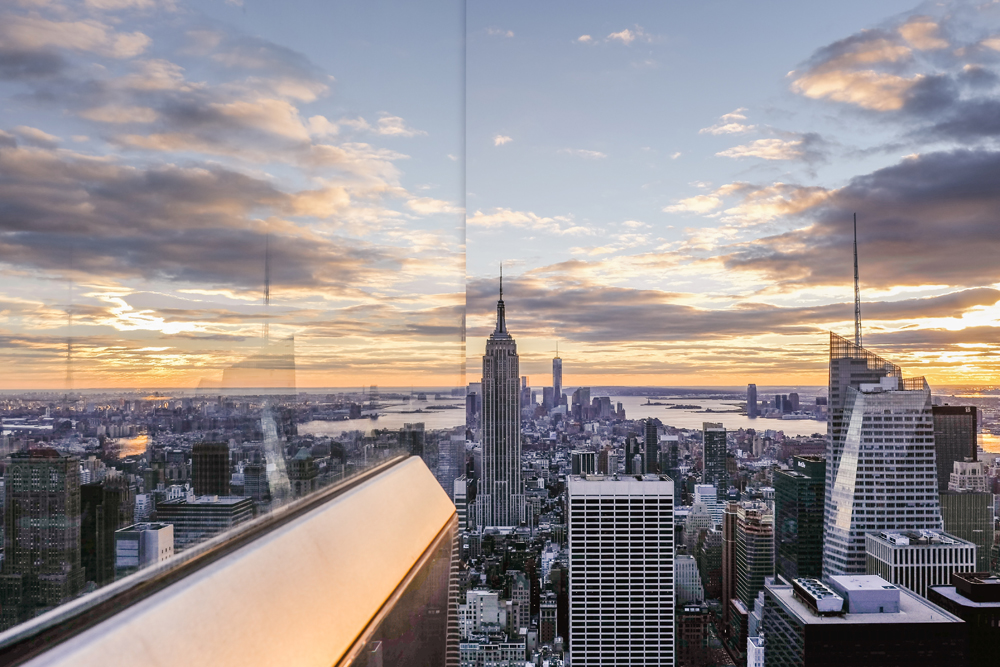 Whether you're in Brooklyn, Queens, Manhattan, the Bronx, or Staten Island, there's dozens of great places to photograph a New York City sunset. We've outlined our favorite spots around Gotham, so pack your neutral density filter and grab the last subway out before golden hour!
Brooklyn Bridge Park, Brooklyn
It's no secret that Brooklyn Bridge Park revitalized Brooklyn's post-industrial waterfront. This spot features a view of the Manhattan skyline and Brooklyn Bridge. Plus, it's covered with lovely grass and dotted with repurposed buildings. So the atmospheric possibilities are many! If you stay a while, you can even get a shot of Jane's Carousel lit up after dark.
Astoria Park, Queens
Known for its enormous pool, which is also the oldest and largest in New York, Astoria Park has lots to see. With two bridges (Triborough and Hell Gate) to choose from, plus trails, a bandstand, tracks, and more, it's easy to populate your sunset shots. Plus, if you're having a long wander with your camera, there are tons of benches to sit on and take in the sights.
The Highline, Manhattan
The beloved Highline is a New York institution. Covered with 350 species of perennials, grasses, shrubs, vines, and trees, this nearly two-mile park snakes through the West Side. It naturally faces the setting sun, and it's one of the few places in the city that feels enmeshed in nature and metropolis. Hovering at 30 feet, you may never get a view of New York quite like this!
Van Cortlandt Park, Bronx
This lush park faces towards the Hudson River. With a small lake and abundant greenery, the city has mounted improvements to Van Cortlandt in recent decades. It also boasts fantastic trails, including some of the best cross country training trails in the United States.
Staten Island Ferry, Staten Island
Wait, wait! We know this sounds like a cop out, but hear us out. There are plenty of great places to watch the sunset in Staten Island. Some of our other favorites include the Alice Austen House and Wagner College. But nothing compares to the glory of having access to views of the Statue of Liberty and the South Manhattan skyline.
A NYC sunset is truly something to behold. Whether you're facing into New Jersey or across the River into Manhattan, the city skyline makes a great shot at sundown.